New FIRS Boss says Nigerian revenue dwindled under Babatunde Fowler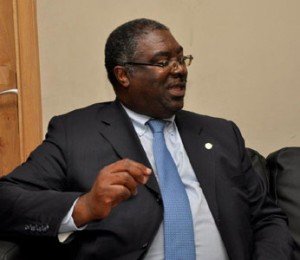 Muhammad Nami, the newly appointed executive chairman of the Federal Inland Revenue Service (FIRS), says revenue collection dwindled despite the engagement of consultants by Babatunde Folwer, his predecessor.
In a yuletide letter to staff, Nami encouraged them to work towards achieving the revenue collection rate of 2012 when the staff exceeded revenue target by N1.3 billion.
During his tenure as FIRS chairman, Fowler had engaged the services of tax consultants to be able to meet revenue targets.
Nami encouraged staff to reverse the "obvious downward trend" in the new year.
"Let me use this occasion to remind you that as a result of your uncommon commitment to duty, in 2012 especially, you were able to raise Five trillion, seven billion naira (N5.007 trillion), even without active participation of consultants, and with moderate inflation and exchange rate.
"I want to be positive that this impressive performance is achieveable again.
"It is observed that despite the rise in service workforce, the engagement of consultants, the rise in inflation and the exchange rate, the tax revenue collection continues to dwindle.
"I therefore urge you all to take advantage of the current staff-friendly environment now in place to redouble your efforts to reverse the obvious downward trend and to ensure that the current target is not only achieved but doubled before the end of 2020."
Garba Shehu, the senior special assistant to the president on media and publicity, had said Fowler's tenure was not renewed because the government has to improve revenue generation.