Ndi Kato: The brutal Attack on Deji Adeyanju – we remember this day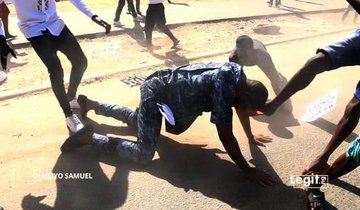 Estimated Reading Time: <1
23rd December 2019, there is a two minutes, 20 seconds video on the internet, of a brutal attack on activist and government critic, Deji Adeyanju by a group of men waving placards and pledging their support for Nigeria's Head of State, General Muhammadu Buhari.
The images from the brutal attack and the video are engraved in the minds of many and serve as a reminder of the brutality we have come to expect under this regime.
Processing the brutal attack against a known activist in a country known for injustice, brutality, mob action and in the face of threats to an endangered civic space is not an easy thing to do. The trauma brings back memories from the early 00s, a time I thought the safety of the capital city and our growing democracy may have insulated me from. People who attended the University of Jos in the 00s can give you several versions of this story; an assembled mob, a target, a command and mayhem.
As I watched Deji run for the car and fall to the ground as the cab driver made way to save himself, sped off and his car from the pouncing group, I remembered a school mate whose father was murdered in one of the many crises in Jos.
This clash like the others had caught many unprepared and people were trapped in their offices. Amongst those trapped was the Mother of a course mate. Her father opted to rush to his office, pick her up and tried to locate the safest route home; every route home involved passing through a crisis hot spot. He thought to risk one of the inner roads concluding that no one will be there as they will expect everyone to avoid that road. He also thought he could drive through really fast with his car; FATAL MISTAKE. The car was attacked by a mob, his wife was set free but he was dragged into a building and slaughtered. His corpse was found several days later, in a big gutter with corpses of dozens of other victims. His killers still roam free.
2019 is over a decade later and Abuja almost replicated this brutal tragedy right in front of the Nigerian Human Rights Commission today. Deji Adeyanju could have been killed. Anyone who has lived through similar horror knows how close Adeyanju came to losing his life and the joke this regime and its supporters are attempting to reduce the event to will further cement the normalcy of the brutal, broken down state this regime is relying on to enforce dictatorship.
Abuja is seconds away from a complete collapse of law and order and the conversation on the influx of people due to insecurity and growing poverty in the rural areas is not being discussed by the authorities. People have taken up residence in any empty plot, sacks are the new housing materials and the city is overrun with illegal settlements. Around any street corner in the capital city, you can find enough people, intoxicated, idle and waiting for the right command and small change, to plunge the capital city into chaos. LOOK AROUND YOU.
This is where insecurity, illiteracy, unemployment and abject poverty lead and Abuja is currently ticking. How much longer do we have?
On Deji Adeyanju and the implication for all of us, one thing is clear, the brutal regime and its supporters have shown us all bets are off and all rules related to democracy are out the window. What does a young population do at a time like this? Are these things shrugged off and accepted as our new normal or is it time to go to the drawing table and decide this is not the future we deserve?
___________________________________
Ndi Kato is a public affairs analyst and ED of Dinidari Foundation.