In Kaduna, Nasir el Rufai signs 2020 budget of N259.25 into law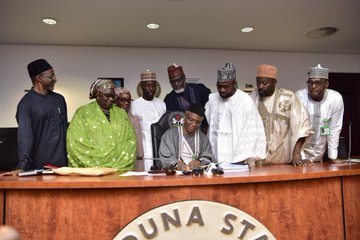 Estimated Reading Time: <1
The governor of Kaduna State, Malam, Nasir el Rufai, has signed the state's 2020 budget of N259.25 billion into law.
During the event at Kashim Ibrahim House according to the series of tweets by the state government handle, El-Rufai said N184.1bn (71%) was earmarked for capital expenditure while N75.14 billion is for recurrent expenditure.
Capital expenditure on education and health constitute N75.44bn of the entire N184.1bn capital budget, while capital spending on infrastructure and housing will take N68.5bn
"Reinforcing the government's governance agenda to build human capital and promote equal opportunity", the governor said while describing the budget.
He said his administration has successfully aligned the fiscal and calendar years in the state for five consecutive years.
Hadiza Balarabe, deputy governor of the state, had submitted the draft budget of N257.9 billion to the state assembly on October 15 but it was later increased to N259.25 billion.