Governor Dickson Says Fmr. President Jonathan is being "USED" by APC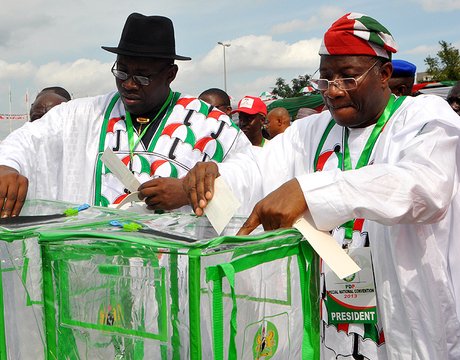 Estimated Reading Time: <1
Governor Seriake Dickson, of Bayelsa State has said the leadership of the All Progressives Congress (APC) are using ex-President Goodluck Jonathan "to legitimise the illegitimacy that happened on Saturday".
Shortly after the victory of David Lyon, candidate of the APC in the Bayelsa governorship election, APC leaders had visited the former president at his Bayelsa residence.
At a press conference on Tuesday, Dickson described Jonathan's alliance with the APC as regrettable.
"No politician has stood by Jonathan more than me," he said.
He maintained that the perception that he alienated PDP stakeholders, including the former president, was unfounded, adding that he made attempts to meet with Jonathan 16 different times yet the former number one citizen chose to support a candidate that did not mean well for him.
"Jonathan remains my oga and I respect him, but there are lots of efforts by certain interest to create a rift between us, there is no politician that has been there for the former president than me," he said.
"He has also helped me but it is unfortunate that I am being misconstrued in this matter of the election. I tried to meet Jonathan 16 times and he opted to support a candidate that does not wish me well.
"I will soon write my memoirs and people will have a fair view of what happened, the visit of some APC governors to Jonathan who congratulated the APC candidate without congratulating the candidate of his party.
The APC won in Mr Jonathan's polling unit and in the entire Ogbia Local Government Area where the former president hails from.
Meanwhile, the PDP, on Tuesday, disowned a report that former President Goodluck Jonathan risked suspension over the party's defeat in Bayelsa State
The PDP National Publicity Secretary, Mr Kola Ologbondiyan, in an interview said he was unaware of any plan by the party to suspend Jonathan.
Ologbondiyan said, "I am not aware (that Jonathan faces suspension). I am not aware that the PDP is planning anything like that."