Shortly After El-rufai's Suspension, Kaduna Govt Demolish Factional APC Secretariat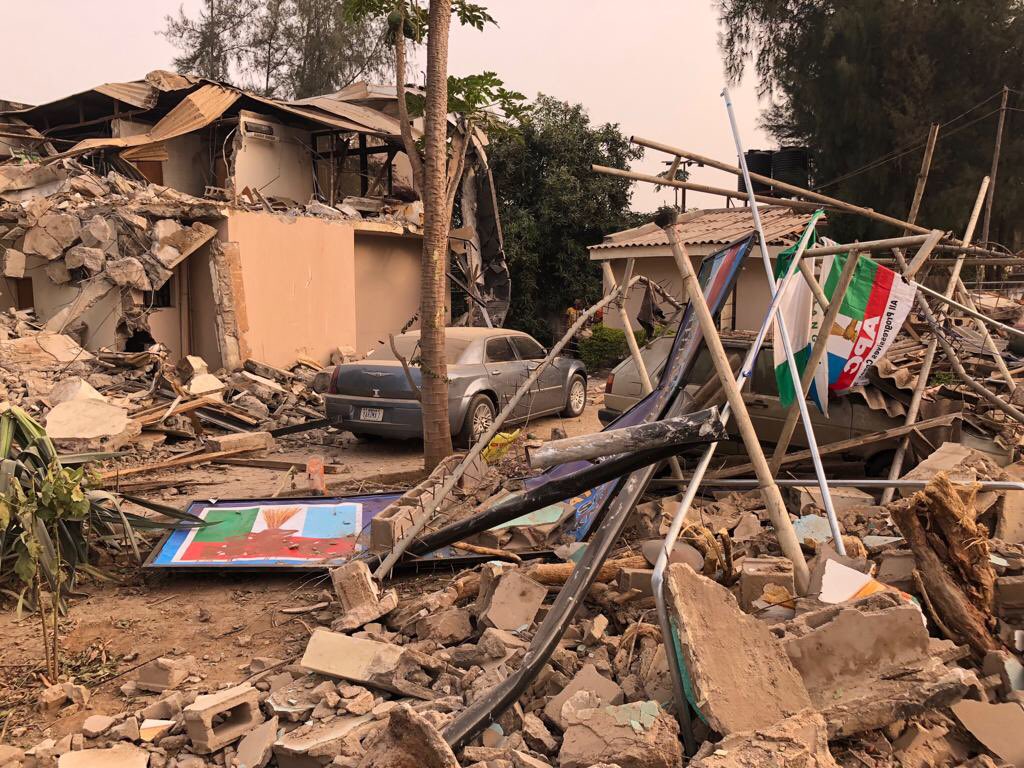 Residents of GRA Kaduna were still in bed on Tuesday morning when a demolition team escorted by armed security operatives stormed 11B Sambo road.
Just last week did Suleiman Hukunyi, lawmaker representing Kaduna north central senatorial district, convert the building – a duplex – to the head office of the faction of the All Progressives Congress (APC) which he leads.
The development happened less than two days after the faction said it had suspended governor  Nasir El-rufai of the state, for anti-party activities.
In the early hours of today, the @GovKaduna Mallam @elrufai personally drove a bulldozer accompanied by armored tanks to destroy my house at 11B Sambo Road. This is a new low and fighting dirty with such low level of pettiness is indeed unprecedented in Kaduna State. pic.twitter.com/l7iR5QRINB

— Senator Hunkuyi (@HunkuyiSuleiman) February 20, 2018
Meanwhile, the Kaduna state government has explained its reason for demolishing a building at 11B, Sambo close, on Tuesday morning.
A faction of the All Progressives Congress (APC) used the building as its head office.
Suleiman Hunkuyi, senator representing Kaduna north-central, who is the leader of the group, had accused Nasir el-Rufai, the governor of being responsible for the destruction.
But in a statement on Tuesday, Ibrahim Husseini, director-general of the Kaduna Geographic Information Service (KADGIS), said the exercise was in line with his agency's mandate to "restore order across Kaduna".
Huseini said the building was removed for "flagrant violations of land use act", adding that a revocation notice had earlier been issued.
"The Kaduna State Urban Planning and Development Agency (KAPSUDA) is currently undertaking operations across Kaduna metropolis in compliance with its mandate. In partnership with sister agencies, KASUPDA is clearing illegal structures, tackling street hawking and restoring order across Kaduna," he said.
"This morning a building on 11B Sambo close was removed for flagrant violations of land use and non-payment of ground rent since 2010. This illegal violation of use had begun to distress neighbours who were being forced to endure an influx of thugs and blockage of the road.
"The Kaduna Geographic Information Service (KADGIS) issued a revocation notice of statutory right of occupancy No. KD. 16712, that covers 11b Sambo Close in the Ungwan Rimi area. The appropriate notice of revocation was delivered at 28 Inuwa Wada Road, the registered address of the company that held the title to the property.
"The notice was also delivered to the building in question, and sent by post to the registered address of the previous title holder. The land has now been allocated to KASUPDA for the purpose of developing and maintaining a public park that will provide a green aland-relatedrene place for recreation in that residential neighbourhood."
Hussieni warned landowners to comply with the terms of their allocation, saying the agency would not hesitate to act if the need arises.
"KADGIS wishes to remind all title owners to be fastidious in complying with the terms of their allocation. The purpose of allocation of land cannot be wilfully altered; neither can title holders lawfully neglect to pay their ground rents," he said.
"Since 2016, the government has been taking action on various land related matters, including revoking all undeveloped land titles in the state and directed that all abandoned buildings be developed within three months of the notice.
"The Kaduna Geographic Information Service (KADGIS), as the government agency charged with ultimate responsibility on land matters in Kaduna state, calls for the utmost cooperation by the public with all our agencies."