"Made-up To Look Beautiful, Sent Out To Die" – Twice Abducted by Boko Haram, Nigerian Teenager Recounts Experience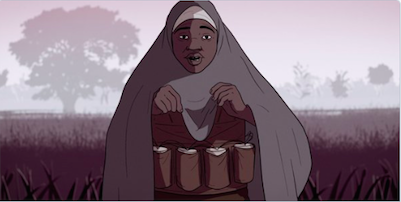 Estimated Reading Time: <1
At the age of 14, Falmata has already faced two suicide bomb missions on the orders of Boko Haram insurgents.
But for her resilience and determination to live, she would have been dead – alongside those who could have been victims; maybe in their tens or even hundreds.
She was 13 when the insurgents abducted her and took her to a makeshift camp, where she also met other girls her age.
"The young girls were put in the tents. There were nine in mine and we had to sleep on big mats," she told the BBC.
"At first I wanted to escape but there was no chance."
She was later presented with two options: marry a fighter, or go on a "mission". She could not bear the thought of getting married at the age of 13, so she opted for the mission.
Little did she know she would be required to go on killing rampage.
FEAR OF BEING CAUGHT UP IN THE WAR
While in the camp, they had a particular routine all day long: wake up, pray, eat, clean, pray, eat, and clean.
But amid that routine was the fear of being caught up in the aerial onslaughts by the military.
"We were scared that soldiers would storm the camp at any time and not spare us, the women, because they would think we were the fighters' wives," Falmata said.
The sight of military helicopters usually caused panic among them, in case of aerial bombardments.
According to her, "when we saw them (helicopters), many of us cried. Some would even soil themselves."
THEN CAME THE MOMENT FOR THE MISSION
One day, she was approached by armed men who instructed her to prepare herself for "something important."
There were also women who decorated her feet and straightened her hair.
"All I was thinking was, 'Is it for marriage or what?' But you can't ask why you're getting this done. Instead friends just console you and tell you to be patient."
Two days later, she had a bomb strapped around her waist – "kill non-believers and you would go straight to paradise", she was told.
"I was so scared that I started crying. But they kept telling me to be patient, to accept that this is what life is about," she says.
"(They said) that on reaching paradise, everything would be better."
Together with two other girls also strapped to explosives, they were taken to the outskirts of a village.
Armed with homemade detonators, they were ordered to walk towards the busy areas – and were told someone would be keeping an eye on them.
But while on their way, they decided against the attack and fled for safety. Falmata asked a stranger to help her remove the belt, and subsequently went off down a dusty road.
In the process, she met two men, who also belonged to Boko Haram – but a different unit.
And for a second time, she was abducted by the insurgents.
At the new camp, life was much similar to the previous one: same routine, same ideology, same fate.
After about a month, Falmata was again presented with a choice – marriage or mission. She told the fighters she would go for the mission and shortly after they left her, Falmata successfully escaped.
"I met some farmers and asked them to help me remove the belt. I told them I was being forced to carry out a mission, but that I didn't want to do it," she said.
They helped her get rid of the belt and in the ensuing days, she later joined a group of hunters who allowed her to travel with them across the woods, while trying to find her way back to Maiduguri, Borno state capital, and to her family.
BUT BOKO HARAM STRUCK A THIRD TIME
This time, they ambushed the hunters and in the process, Falmata managed to slip away into the forest.
"I didn't know the forest. Every little sound would scare me, so I kept moving. I'd sleep on trees when I could," she recounted.
"I think I spent a whole week without food. I would drink stagnated water and also use this water to wash my hands and feet when praying.
"I would pray two or three times a day whenever I could find water. I was so scared, but God helped me and I reached a town."
A local family was later to give her shelter for a few days and also helped her return to her family in Maiduguri.
Prior to the moment she was abducted, she had faced much horror in the aftermath of the Boko Haram insurgency, and the suicide missions would have offered her an opportunity to end the suffering.
But for her, death was not an option yet.
"I wanted to live," she told the BBC, adding: "Killing is not good. It's what my family taught me and what I believe in too."