"To The Best of My Knowledge, Miyetti Allah Has Never Been Involved In Acts of Violence – Emir of Kano Says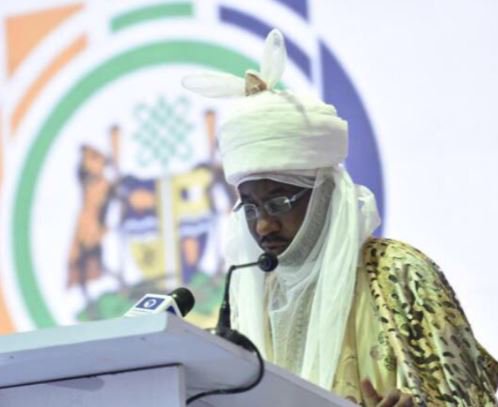 The Emir of Kano, Muhammadu Sanusi II, says he personally gave the Federal Government pictures of 800 Fulani herdsmen and their families that were killed in Taraba State last year but the government had yet to take action.
He added that the killings in the Middle Belt were being perpetrated by both the herdsmen and the locals, stressing that the murder of the herdsmen was not being accurately reported thereby presenting a false narrative of 'one-sided killings'.
Sanusi said this during an interview with Sunday PUNCH on Saturday.
The emir said, "Some months ago in Mambilla, in one weekend, over 800 Fulani were murdered by Mambilla militias. The papers did not even go there to cover the story. Most of those wiped out were women, infants and the elderly.
"In one case, a pregnant woman was killed, her stomach was ripped open and the baby was brought out and slaughtered. I personally handed over to the Federal Government a dossier with the names and pictures of the 800 or so people slaughtered as well as the names and addresses of persons known to have participated in these acts of ethnic cleansing.
"Nothing has happened. I also ensured that authorities received video and audio evidence of senior politicians in Taraba State, who were involved in this act of genocide. No one has been arrested. Fulanis were also murdered in Kajuru and Numan.
"In many of these cases it was not about conflict but militias raiding settlements to kill women and children, and then later, attacking herdsmen and slaughtering them and their cattle."
The former Governor of the Central Bank of Nigeria condoled with the people of Benue State over the recent killing of over 70 persons but rubbished reports that the attacks were part of a ploy by the Fulani to take over parts of Nigeria.
He attributed the killings and reprisals to the failure of government and security agencies.
"The point I am making is that we are living in a country that has failed to protect the lives of people on all sides and bring culprits to book. Also in the case of the Fulani, there is a deliberate attempt to 'ethnicise' criminality, and politicians, who are total failures, have found the anti-Fulani rhetoric to be the way to get popularity," he said.
The monarch said as far as perpetrators continued to get away with the dastardly acts, they would remain emboldened to continue to kill.
Sanusi alleged that in Taraba State for instance, one of the officials that took part in the killing of Fulani had been given an appointment by the state government.
He added, "The Sultan of Sokoto, the Lamido of Adamawa and I have been quietly speaking to top security personnel for months; telling them that the failure to provide justice and the clear involvement of political leaders in genocide, especially in Taraba, is causing anxiety.
"The case of Taraba is particularly bad. In the days of (President Olusegun) Obasanjo, an act of cleansing, similar to the recent one, happened. A politician, who was identified by an investigative panel as a key man behind the genocide, was simply appointed state attorney general by Governor Danbaba Suntai and he made sure no one was called to account.
"In the recent genocide, a top local government official, on whom there was evidence of involvement was removed, then given a political appointment in Jalingo in the Governor's Office."
Asked whether the anti-grazing law in Benue State is the right approach, the monarch said he shared the view of Governor Simon Lalong of Plateau State that the law was divisive and unfair to the Fulani herdsmen.
Sanusi said the law deepened the indigene/settler dichotomy and made the herdsmen feel isolated.
The monarch added that he had appealed to the Taraba State governor to delay the implementation of the law in the state but all his pleas had fallen on deaf ears.
The emir stated, "I fully support all efforts to attract investment into cattle rearing. This is global best practice. Capital is put into development of ranches and grazing areas, herdsmen settle. Their cattle are healthier and fatter, they sell milk and milk products and beef, their children go to school and they are economically much better off.
"This is what we all want. But in Benue and Taraba, the approach has not been one of including and supporting and regulating herdsmen but of isolation and hate. I am happy Governor Lalong of Plateau has publicly stated that he advised Governor Ortom of Benue to tread carefully.
"I can confirm that I personally spoke to Governor Darius Ishaku before his public hearings on his law and begged him to slow down until he has worked out proper implementation but he refused."
The former CBN governor admitted that he was one of the patrons of the Miyetti Allah Cattle Breeders Association of Nigeria.
He said the Sultan of Sokoto, the Emir of Katsina, the Emir of Zazzau and the Lamido of Adamawa were also patrons of MACBAN.
Sanusi, therefore, stated that the group was not a violent one.
He said, "As I understand it when Miyetti Allah was first set up, they requested a few Fulani emirs to be their patrons in their capacity as emirs. The first grand patron was Sultan Abubakar III and he was replaced by successive sultans – Dasuki, Maccido and Saad Abubakar now.
"Other patrons were emir of Kano, Lamido of Adamawa and emirs of Zazzau and Katsina, I believe.  So, my predecessor was a patron and on my ascension to the throne, I became a patron. This is all nominal.
"To the best of my knowledge, Miyetti Allah has never been involved in acts of violence and has always condemned violence and called on its members to eschew violence.
"It is, however, committed to protecting the fundamental rights of herdsmen as Nigerians including constitutional right to freedom of movement and the ownership of private wealth and peaceful conduct of their business."
The emir added that the effects of desertification had led to an increase in competition for resources.
The monarch, therefore, described allegations that Fulani wanted to take over Nigeria as a 'daft argument'.
Sanusi stated, "Grazing routes have been taken way by politicians. We have demographic implosion in the North, desertification, reduction in water reserves and competition for resources among various aspects of agriculture – crop production, animal husbandry and fishing.
"What we see is the failure of political authority, the cynical manipulation of ethnic identity by failed governments and the impotence of our security machinery. Instead of being dragged into a debate on whether Fulani are trying to take over peoples land – which is a daft argument – let us try and bring some intelligence into this discussion on weak governance rather than emotions."