Anambra State Governor, Willie Obiano Finally "Got His Groove Back", He Now Threatens South-East Governors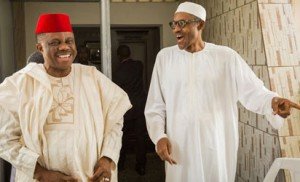 Anambra State Governor, Willie Obiano, on Thursday warned his counterparts in the South-east that they will lose their seats in the 2019 general elections unless they join his party, the All Progressive Grand Alliance, APGA. Obiano gets himself back after emerging winner of the just concluded elections in Anambra state, an election that threatened his stay in power.
He gave the warning at a rally to celebrate his reelection and to campaign for the party's candidate, Victor Umeh, for the Anambra Central Senatorial District rerun election scheduled for January 13.
The rally held at the Alex Ekwueme Square in Awka, the state capital.
Describing APGA as the "South-East hurricane", Mr. Obiano, who was reelected on the party's platform last month, asked governors in the geopolitical zone to join the party now as the it is poised to take over the other four states in the South-east.
Three of the governors, Okezie Ikpeazu, (PDP-Abia), David Umahi (PDP-Ebonyi) and Ifeanyi Ugwuanyi (PDP-Enugu) are up for re-election while Rochas Okorocha (APC- Owerri) is serving his second and final term.
"What happened here on November 18 when APGA swept the entire poll in Anambra State will be replicated in Imo, Abia, Enugu, and Ebonyi states in 2019," Mr. Obiano declared.
"APGA is a hurricane that nobody can stop in the South-east. What I am telling my brother governors in the South-east is for them to join APGA now if they wish to be re-elected; otherwise, sorry for them, they must lose their seats to APGA in 2019," he said.
He further claimed that many serving senators and members of the House of Representatives from the zone had approached him to join APGA.
"What we are telling everybody now is to join APGA within a reasonable time to be able to get the chance to contest election on our platform in 2019."
He said as chairman of Mr. Umeh's senatorial  campaign organization, he had already put in place strategies to "crush any opposition" in the January 13 senatorial rerun ordered by the Appeal Court.
Mr Umeh, a former National Chairman of APGA, in his own speech dismissed the judgement of Justice John Tsoho of the Abuja Federal High Court as dead on arrival.
Justice Tsoho had on Wednesday ordered that Ikechukwu Obiora of the Peoples Democratic Party be sworn in as the winner of the 2015 Anambra Central senatorial election.
But Mr. Umeh maintained that the January 13 rerun poll was sacrosanct, describing Mr. Tsoho's decision as of no effect.
He argued that it would amount to judicial absurdity for a high court's decision to supersede that of the Court of  Appeal which earlier ordered the Independent National Electoral Commission to conduct the poll within 90 days. INEC subsequently scheduled the rerun for January 13.
Mr. Umeh said: "The January 13th datre as fixed by INEC for the Anambra Central Senatorial District election will hold. Nobody or court can challenge the ruling of the Appeal Court."