"Only Death Will Stop Me" – Bisi Alimi Vows To Overturn Nigeria's Anti-Gay Law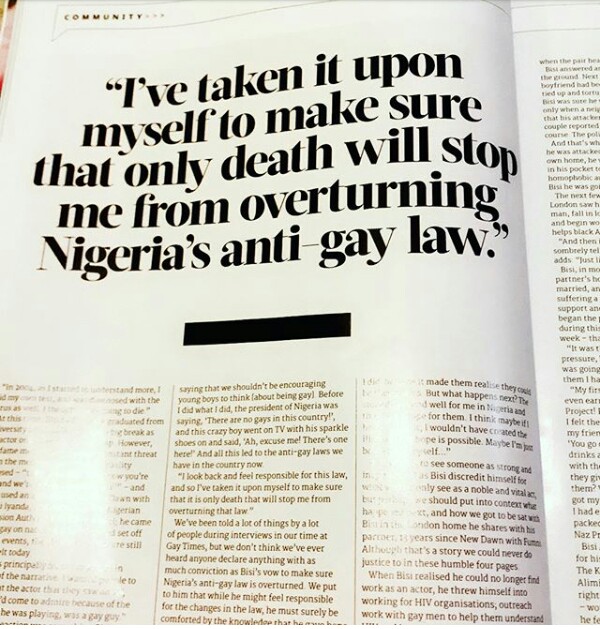 Estimated Reading Time: <1
Nigerian gay rights activist, Bisi Alimi has vowed to continue his campaign to overturn Nigeria's anti-gay law.
In 2014, Ex-President Goodluck Jonathan signed a bill which proscribed penalties of 14 years' jail for same-sex marriage and 10 years for same-sex amorous relationships.
In the October issue of Gay Times Magazine, which the 42-year-old posted on Instagram,  the heading reads:
"I have taken it upon it upon myself to make sure that only death will stop me from overturning Nigeria's anti-gay law"
On January 7, 2014, Nigeria's former president, Goodluck Jonathan, signed the Same-Sex Marriage (Prohibition) Bill (SSMPA) into law.
The law forbids any cohabitation between same-sex sexual partners and bans any "public show of same sex amorous relationship." The SSMPA imposes a 10-year prison sentence on anyone who "registers, operates or participates in gay clubs, societies and organization" or "supports" the activities of such organizations. Punishments are severe, ranging from 10 to 14 years in prison. Such provisions build on existing legislation in Nigeria, but go much further: while the colonial-era criminal and penal codes outlawed sexual acts between members of the same sex, the SSMPA effectively criminalizes lesbian, gay, bisexual, and transgender (LGBT) persons based on sexual orientation and gender identity.
There are human rights impact of the SSMPA on LGBT individuals and its effects on the activities of non-governmental organizations that provide services to LGBT people.