IPOB Considering Violent Response, Kanu Says, Despite Stop and Search Video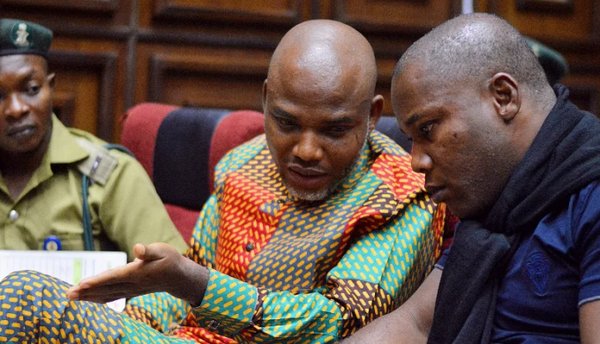 Estimated Reading Time: <1
The leader of the separatist group Indigenous People Of Biafra, IPOB, Nnamdi Kanu has said the group is consulting with its "directorate of state (DOS) headquartered in Germany, to consider if it should respond violently to the military occupation of south east Nigeria, and Aba in particular.
Kanu announced this in a statement personally signed on Thursday.
"The leadership of IPOB through the instrumentality of the directorate of state (DOS) headquartered in Germany, will be meeting to vote on the viability or otherwise of continuing our struggle in this non-violent manner.
"There is urgent need to begin the process of defending ourselves in the face of relentless murderous attacks from the Nigerian state." he said.
The army launched its latest operation in the region on Sept. 9, calling it Operation Python Dance II. Since the announcement, there have been several cases of clashed between members of the separatist group and the army. Journalists have been attacked, army owned Armoured Personnel Carrier, APC has been attacked with stones and bottles, citizens have been immersed in muddy water and asked to drink it, while people have been killed.
Okezie Ikpeazu, the Abia State governor, imposed a dusk till dawn curfew on the affected area of the state, but that has failed to curtail the clashes.
While Kanu in his statement claims the army's occupation and attacks have been unprovoked, the video sighted by this paper reveals youths throwing objects at personnel without retaliation. Another video which this paper declined to upload, showed members of the IPOB stopping vehicles to search for people they believe are northern Nigerians, while trucks and tricycles blazed in the background.
The army in its defence has claimed it will investigate a video showing several dead bodies on the ground while soldiers immersed citizens thought to be IPOB members in muddy water, canning some, and asking others to drink the water. It said whoever is found guilty will be punished accordingly.
In the same breath, it accused the IPOB of distributing pre-recorded videos and pictures targeted at misinforming the public, urging citizens to scrutinize such videos and pictures.
The army has come under intense criticism for its show of force against citizens, and it has not been all sympathy for members of Kanu's group who have been accused of treason, with their leader threatening to burn down Nigeria.
Kanu has said he may renege on his scheduled meeting with governors from the five south east states which is meant to hold on Friday, Sept. 15, saying he and his members are attending to their "dead and injured".
he told the governors that he has been informed of a plot by soldiers to ambush and kill him on his way to the meeting.
"In view of the concerted effort by the oppressive Nigerian state to shatter the peace and tranquility of the south-east and the rest of Biafraland through military intimidation, it has become necessary for me to clarify why, regrettably, I may not be able to attend Friday's meeting with the south-east governors as earlier agreed, for three main reasons.
"We are currently busy attending to our dead and injured from this latest round of unprovoked military onslaught against innocent civilians in our own land. All the casualties so far were shot by men of the Nigerian Army deployed to my house and those stationed along motor ways leading into Umuahia my hometown.
"I have been reliably informed also, that a detachment of … soldiers responsible for the murder of innocent unarmed IPOB family members have now been stationed near Enugu to ambush and assassinate me on my way to the meeting with the governors on Friday." he said.