Doctors Suspend Strike for 2 Weeks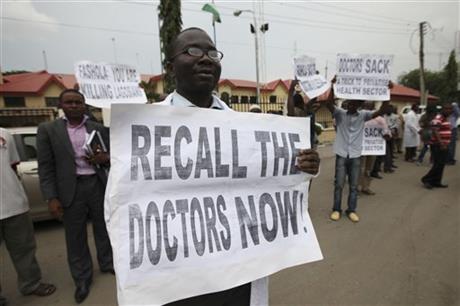 Estimated Reading Time: <1
The Nigerian Association of Resident Doctors (NARD) has suspended its 10-day strike for two weeks to monitor the level of federal government's compliance with the agreement reached.
The two weeks period is to afford the doctors enough time to further discuss with the government in the hope of arriving at a lasting solution to the contentious issues.
The doctors are prepared to resume the strike if discussions with the government breakdown.
The National Executive Council (NEC) of NARD took the decision at its meeting in Abuja, Wednesday night to appraise the implementation of its agreement with the government.
The chairman of NARD UCH chapter, Segun Olaopa, said "the decision was reached following appeals from the public that the doctors should give the federal government more time to meet their demands".
NARD had appealed to Nigerians to bear with it while it pressed government to improve the healthcare delivery system in the country.
NARD embarked on a nationwide indefinite strike on Sept. 4, to press home a six-point demand.
On Sept. 6, NARD laid out terms of a settlement with the federal government after the two parties met to resolve the crisis.
Among its demands, NARD was protesting the sack of some of its members, non-payment of "skipping'' entitlement, non-inclusion in the IPPIS platform and non-payment of salary arrears.
The FG had agreed it will pay the arrears and commence the inclusion of NARD members on the IPPIS platform.
Dr. Arikawe Adeolu, a member of the National Executive Council of NARD, had said the association was waiting on the federal government to redeem its pledge before calling off the strike.
Adeolu said that more than half of members of the association were yet to receive their arrears, claiming that government is also yet to meet its other demands in the terms of settlement.
He said that the association will hold a meeting to assess the response of the government to its demands.
(NAN)