We Won't Know How Corrupt APC Is Until Another Government Comes – Jonathan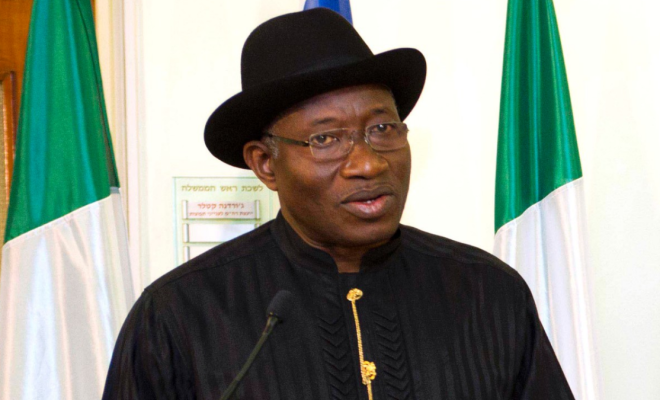 Erstwhile president, Goodluck Jonathan has said the level of corruption in the Muhammadu Buhari-led All Progressives Congress, APC, will only be revealed when another government takes over.
In a statement by his former aide Reno Omokiri, Mr. Jonathan said the APC has found itself complicit in the allegations of corruption against the Peoples Democratic Party, PDP.
Read the statement below.
My attention has been drawn to a statement by the APC and released in some newspapers with the headline 'Nobody could have looted like Jonathan, APC replies PDP'
It is indeed disheartening that the All Progressive Congress has again decided to stand truth on its head by claiming that nobody looted Nigeria like former President Goodluck Jonathan.
The statement by the national publicity secretary of the APC, Bolaji Abdullahi, a man who once benefitted from former President Jonathan's generosity and rode on his back to become a minister, shows that the party is at its wit's end and is running out of lies to feed Nigerians.
First of all, no court has indicted or convicted former President Jonathan of corruption neither can they do so because the former President was not corrupt and did not loot.
We remind the APC that former President Jonathan once truthfully declared that he has no accounts or property abroad. There is a Freedom of Information Act signed into law by Dr. Jonathan and I urge Bolaji Abdullahi and those who pull his puppet strings to take advantage of it in verifying that assertion.
In any case, if the Jonathan administration was corrupt, what does that say about Bolaji Abdullahi who was a member of that government for three out of its five years? By indicting Dr. Jonathan, Malam Abdullahi also indicts himself, after all, he did not resign from that government until former President Jonathan sacked him.
Bolaji Abdullahi, like Senator George Akume, is only being clever by half in indicting the PDP as the cause of Nigeria's problems.
Such is the APC's hypocrisy that Senator Akume said 'PDP caused the pain we are in'. Senator Akume, like Bolaji Abdullahi forgets that the PDP ruled for 16 years and Akume was a PDP Governor for 8 of those years and a PDP Senator for 4 of those years.
Is it that one suddenly becomes a saint by joining the APC after being in the PDP for 12 years?
It is funny that no evidence of looting has ever been established against Dr. Jonathan, yet the APC believes he looted, yet though evidence abounds that ex-military head of state, General Sani Abacha looted, they believe and have publicly said 'Abacha did not loot'.
Over $5 billion has been traced to Abacha and over $1 billion has been recovered from him including $320 million recovered under the Buhari administration alone. The question for Malam Abdullahi is this-how much has been recovered from Dr. Goodluck Jonathan?
No wonder Nigeria has not improved in the Corruption Perception Index of Transparency International since 2014 when we made our best improvement till date under Dr. Jonathan. Apparently, after sacking people like Bolaji Abdullahi, Transparency International saw fit to improve Nigeria's Corruption Perception Rating by 8 points. The position we occupied in 2014 because of Jonathan (136)  is the same position we occupy today. No progress has been made from where he left off.
It is also sad for the APC to claim that its hands were tied by the courts forcing the government to authorize the release of 48 houses seized from Timipre Sylva, a major APC donor, and chieftain.
Such stories should only be told to children on the TV program 'Tales by Moonlight'.
We ask Nigerians to note that even when the same courts ordered the release on bail of Col. Sambo Dasuki and Sheikh Ibrahim el-Zak Zaky, these individuals were not released in defiance of court orders.
It is obvious that the APC chooses which court order to obey based on how much the person involved has donated to the party.
It is also sad that Malam Abdullahi, who knows the truth, continues with the propaganda that Jonathan said 'stealing is not corruption'. Bolaji knows the truth because he was serving Dr. Goodluck Jonathan as a minister when this incidence occurred. Former President Jonathan merely quoted the then Chief Justice of Nigeria, Justice Dahiru Musdapher, who tried to differentiate between stealing and-corruption.
His Lordship the then CJN said most of the cases charged to courts and celebrated as cases of corruption are actually cases of stealing. No one has said stealing is good. Bolaji's APC should stop this falsehood and propaganda.
Why the APC continues to circulate beer parlor gossip, I wouldn't know. Even the Nigerian Senate headed by a former PDP governor now APC Senate President accused the APC Federal Government of spreading beer parlour rumour on corruption (front page of the Daily Sun Friday September 8, 2017). Bolaji's statement is another beer parlour propaganda.
The APC government has budgeted over N14tr in the last two years. Bolaji should tell Nigerians what the government has done with the money. Nigerians will not know the level of corruption in Bolaji's APC government till another government takes over.
A government that harbors a man who was indicted by a duly constituted Judicial Commission and even makes him a minister has no moral authority to point fingers at others.
Finally, I appeal to Bolaji Abdullahi and the APC to focus on explaining to Nigerians why despite the fact that it claims to have recovered almost 2 trillion from the Jonathan administration, Nigeria still wants to borrow 1.6 trillion.
With the amount 'recovered', Nigeria should have had enough not to borrow and a little extra on top to lend to others.
These lies only go to show that you can use propaganda to get to power, but you cannot use propaganda to stay in power.
Reno Omokri, Bestselling author of the worldwide amazon #1 bestseller (Conspiracy Theory) Facts Versus Fiction: The True Story of the Jonathan Years: Chibok, 2015 and Other Conspiracies