Emir Lamido Sanusi, Kano's 'Progressive Fraud', Takes Aim At Child Marriage in Nigeria – Guardian UK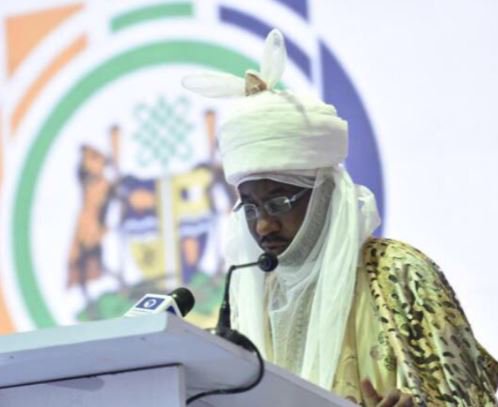 Lamido Sanusi II, Nigeria's second highest Islamic authority, is on a mission to end child marriage.
As the emir of Kano in northern Nigeria, one of 13 states where there is no minimum age for marriage, he is well placed to understand the issue. Yet Sanusi, a hugely symbolic religious figure, is at pains to point out that it is a social rather than scriptural problem.
"Every day you're dealing with young girls who are withdrawn from school and are married, often into abusive or vulnerable situations, then divorced and left with nothing," says Sanusi.
"There is an idea in the north [of Nigeria] that child marriage is Islamic, but it is not an article of faith, it is something societies decide for themselves."
Although the legal age for marriage is 18, the Nigerian constitution allows states to set their own limits. This gives child marriage a legal and cultural foothold in regions across the country, including Kano and other areas of the largely Muslim north.
According to Girls Not Brides, a coalition of more than 700 organisations working to end early and forced marriage, 76% of girls in Nigeria's north-west are married before they turn 18.
The UN Population Fund is working with the government to end child marriage by 2030. In Kano, it is specifically working with the state government and, significantly, the Kano emirate council, to set a legal age limit.
Sanusi has proposed setting the legal age at 17, or younger provided consent is given by a judge. But his views have ruffled feathers in the conservative region, not only among local clerics who believe any age restriction on marriage is unacceptable, but also among campaigners, who want an outright ban on marriage before the age of 18.
"What I'm proposing is a 'third-eye'," Sanusi explains. "Our approach has been to offer reforms that can pass, because, if you say you are outlawing child marriage completely, they [the religious establishment] will respond that you can't prohibit what has not been prohibited in Islamic law. But you can say it needs to be regulated."
Zubaida Abubakar, a UN Population Fund programme analyst for adolescent sexual and reproductive health, feels Sanusi's plan is "not ideal", but recognises the challenges he faces.
"We're still working to end child marriage, but at the same time we recognise his campaign is a huge step forward from two years ago," says Abubakar. "When we had this discussion then, people were saying the age should be 13."
Abubakar says the emir's advocacy offers unique validation for the campaign in local communities. "We have an adolescent girls initiative where we're targeting about 114,000 girls, helping their access to education and funding safe spaces to teach them about their reproductive system and give them confidence and agency. We're making progress, but the palace are the custodians of the culture in Kano. Their impact goes much further and there is already a change in attitudes."
Sanusi, who married his fourth wife in 2015, when she was 18, says he also faces criticism at home. "My daughters tell me that I'm a progressive fraud. They say my changes are mild, that I don't have a single woman on the emirate council, that I'm not going far enough to improve women's representation. But I tell them that my proposals are already meeting resistance. If I went any further or if I move too fast, people would rebel."
This year, the council convened debates with scholars in Kano, hoping to win religious support for the bill, but the process has stalled.
"Many feel that child marriage is acceptable under Islam," says Bashir Umar, a chief imam at Kano's Al-Furqan mosque. Regulating against sex with child wives is – for many – hard to accept, he says.
One imam, who wishes to remain anonymous, says efforts to help girls should focus on medical issues. "If the palace and the government feel there are medical issues young girls face, we can address these issues without attacking Islamic practices or making such changes."
But even making the medical case against early marriage, which will often result in girls having sex at a young age, has come under attack. Sanusi says some doctors dispute evidence linking high rates of fistula and maternal deaths to child marriage and pregnancy. At a conference at Bayero University, a female gynaecologist who had been collecting childbirth data for 30 years presented statistics showing the harmful effects of underage marriage. But two male doctors disagreed with her research, blaming fistula on poor facilities.
"There was a crowd in the audience who were extremely hostile to the findings," says Sanusi. "The two male doctors … [rebutted] her evidence. People who came open-minded said, 'Well, we were told that there were medical problems linked to child marriage but now we have two doctors saying it is not an issue.'
"If you look at the data on maternal health, girls who get pregnant below the age of 15 are five times more likely to die than girls who get pregnant at the age of 20. But this is the anti-intellectual, emotional environment that we deal with."
Despite slow progress on setting a legal age in Kano, the campaign is yielding results. After his imam began to speak out on child marriage last year, retired businessman Dasut Usman, 64, decided against marriage for his youngest daughter, Hamzat, 14. His first three daughters were all married before the age of 16.
"For her, she won't marry until after she finishes her compulsory education and university," says Usman, whose daughter hopes to become a nurse.
Sanusi remains hopeful of change. "If you held a vote in Kano today on child marriage, most women would vote against it. They've seen the effects on their daughters, on their siblings and friends. Ultimately, even if changing the law presents resistance, there is a conversation happening now that didn't happen before."