FG Releases Complete Details of Paris Club Funds Released To States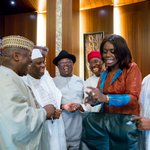 Estimated Reading Time: <1
The Federal Government has released details of payments to the 36 states as the refund of "over-deductions on Paris Club, London Club Loans and Multilateral debts on the accounts of States and Local Governments (1995-2002)."
This is the second tranche of the refunds to the states.
A total of N243.8 billion was released to the 36 states and Abuja in the second tranche.
The Minister of Finance, Kemi Adeosun, said approval for the release of the fund was given by Acting President Yemi Osinbajo on May 4.
"The releases were conditional upon a minimum of 75 per cent being applied to the payment of workers' salaries and pensions for States that owe salaries and pension," Salisu Dambatta, a finance ministry spokesperson said in the statement.
See the full details of the amount received by each state below.
RE-REIMBURSEMENTS OF OVERDEDUCTIONS ON PARIS CLUB LOANS FROM STATE GOVERNMENT
MANDATE TO THE CENTRAL BANK OF NIGERIA: 2ND INSTALMENT
S/N STATE AMOUNT PAYABLE (NGN)
1 ABIA 5715765871.48
2 ADAMAWA 6114300352.68
3 AKWA-IBOM 10000000000
4 ANAMBRA 6121656702.34
5 BAUCHI 6877776561.25
6 BAYELSA 10000000000
7 BENUE 6854671749.25
8 BORNO 7340934865.32
9 CROSS RIVER 6075343946.93
10 DELTA 10000000000
11 EBONYI 4508083379.98
12 EDO 6091126592.49
13 EKITI 4772836647.08
14 ENUGU 5361789409.66
15 GOMBE 4472877698.19
16 IMO 7000805182.97
17 JIGAWA 7107666706.76
18 KADUNA 7721729227.55
19 KANO 10000000000
20 KATSINA 8202130909.85
21 KEBBI 5977499491.45
22 KOGI 6027727595.8
23 KWARA 5120644326.57
24 LAGOS 8371938133.11
25 NASARAWA 4551049171.12
26 NIGER 7210793154.95
27 OGUN 5739374694.46
28 ONDO 7003648314.28
29 OSUN 6314106340.62
30 OYO 7901609864.25
31 PLATEAU 5644079055.41
32 RIVERS 10000000000
33 SOKOTO 6441128546.76
34 TARABA 5612014491.52
35 YOBE 5413103116.59
36 ZAMFARA 5442385594.49
37 FCT 684867500.04