Rochas Okorocha Says Igbos Don't Need Biafra But Need To Unite With the North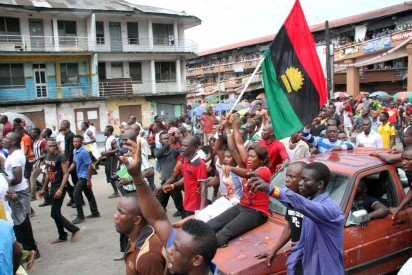 Rochas Okorocha, governor of Imo state, says Igbo people need to fix the "bridge of relationship" with their northern counterparts.
He cautioned those in support of the activities of the Indigenous People of Biafra (IPOB) saying, "we don't need such".
"I do know that when the chips are down, they (IPOB) won't be anywhere to be found."
He said the three-month quit notice given to the Igbo was inciting and could cause disaffection between the south-east and northern regions.
"While I blame the Arewa youths who may have acted under provocation and taking the matter beyond scope, the statements were also very inciting and can create disaffection between the north and south-east," he said in a statement issued on his behalf by Sam Onwuemeodo, his chief press secretary
"For the purpose of those who have forgotten, in history, the south-east and north have enjoyed a good political relationship, especially in the days of Shagari. We have been seen as allies and partners politically.
"Except for this past dispensation, for some myopic reasons many Igbo did not see the victory of Buhari coming and we missed the link. We need immediate refixing of this bridge of relationship between the south-east and the north.
"I call on all Igbo persons to dissociate themselves and every northerner and well-meaning Nigerians to distance themselves from these comments from Arewa group and IPOB. Again, let me caution those who are calling for support for IPOB, especially the non-Igbo, to stop henceforth. It is deceitful and inciting and is no longer a welcome development in this part of the world."
He called on the country's leaders "to speak out and condemn this act because silence cannot help us in this matter".
"Leaders ought to take responsibilities now and teach our youths the right things to do. The people in this matter are our children, our youth and they have a duty to listen to us as their parents," he said.
"It is apparent that we have failed as leaders in this nation, giving room for this hate in families, communities, states and at national levels. We need to take responsibilities as leaders to stop this campaign of hate as that will not do us any good.
"I call on my Igbo brothers, the agitators because there is nothing wrong in doing what others are doing, your style is what is wrong. You can't be calling for a sovereign nation inside a nation, it is absolutely wrong.
"If you must agitate, I propose you agitate for the Movement for Economic Survival of Igbo People (MOESIP). That will help for the economic survival of our land, making agriculture the mainstay of our economy. That is only when we will command the respect of the rest of the world."
The governor said having fought for the unity of the country, the Igbo should not be counted out of the country's affairs.