"We Don't Want Igbos In Nigeria" – Northern Youth Coalition Insists Despite Calls For Their Arrest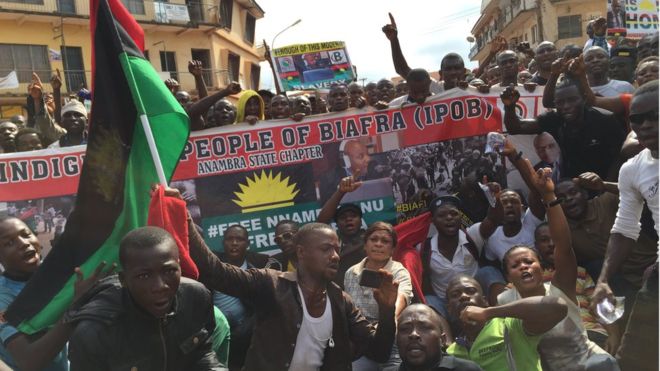 Despite the widespread condemnation that trailed their move to evict the Igbo out of the north, the northern youth coalition has insisted that those from the ethnic group must leave Nigeria.
Nasir el-Rufai, governor of Kaduna state, had ordered their arrest, while Kashim Shettima, governor of Borno, said their position did not represent the view of the north.
Different stakeholders also condemned the group which gave Igbo until October 1 to vacate the north.
But in a statement on Thursday, the youth who stood their ground said they had received sympathy across the country.
They denied considering violence as a means of achieving their aim, accusing "merchants of mischief" of misrepresenting their thoughts.
"In strict observance of that tradition we never employ violence as a means of pursuing our interest and at every opportunity, we opt for peaceful engagements and implore people to eschew violence in all its ramifications," the coalition said in a statement signed by Abdulazeez Suleiman, one of its leaders.
"This informs why, a majority of discerning Nigerians, not necessarily northerners alone, understood and identified with our express call for the Biafrans to be allowed to actualise their long-held secessionist aspiration.
"We restate that we have never called anybody to violence and that people should discountenance the elements of fear and threat introduced by the distortions of merchants of mischief.
"We wholeheartedly endorse the moves made variously by our leaders to allay those fears and urge people to be peaceful and law-abiding while at the same time resolutely insisting on having the right thing done by allowing the Igbo to have and move to their dream country in accordance with the universal fundamental right to self-determination.
"We restate our determination and commitment to ensuring that the north will never partake in any contrived arrangement that would still have the Biafran Igbo as a component.:
The groups called on the federal government and international orgniasation to facilitate a referendum that would quicken the exit of the Igbo.
"We reiterate our call on Nigerian authorities and recognised international bodies such as the ECOWAS, AU and UN to hasten the initiation of the process for the final actualisation of the Biafran nation and with it the excision of the Igbo out of the present federation," the statemenr read.
"Despite the minor distortions that caused some measure of anxiety, we make bold to say that the cheerful responses to our position which flowed through the internet and by way of personal telephone conversations nationally and universally has resonated that peace-loving Nigerians who have been tormented and menaced by the irredentist proclivities of the Igbos are overwhelmingly desirous to put an end to it.
"As we acknowledge this outpouring of patriotic support across the nation, we implore people, particularly our cultured northerners to remain restraint in the face of any provocation from any quarter and to debate intelligently.
"We assure them that we shall be firm and resolute in honestly and painstakingly pursuing what we all know is a noble and just cause without hurting anyone."