Crude Oil Revenues: Court Adjourns For Report Of Settlement In FG's Suit Against BRASOIL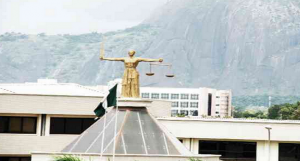 Estimated Reading Time: <1
The Federal High Court Lagos has adjourned proceedings in the suit filed by the Federal Government against Brasoil Oil Services Nigeria, to July 5 2017, to allow the parties explore amicable settlement.
When the matter came up on June 5 2017, to continue with the trial, Mr Ituah Imhanze, Counsel, for the Federal Government drew the attention of the Court to a letter written by the Managing Director of Brasoil to the Attorney General of the Federation, requesting an amicable resolution of the matter. Upon confirmation by Mr. Hameed Abdulkareem, Counsel to Brasoil that he was aware of the letter, which he said was marked without prejudice, the Court noted that as a court of justice (not jungle court), it was obligated to allow parties explore amicable resolution if they so wished, and that where a party has initiated settlement, as in the present case, same should be encourage by Counsel and not scuttled. The Court then adjourned the matter to July 5, 2017 for report of settlement.
It should be recalled that the Federal Government of Nigeria had instituted actions in Court against some International Oil Companies (IOCs) including Brasoil, to recover lost revenues arising from undeclared and under-declared crude oil shipments from Nigeria.
A Committee of the House of Representatives had also in January this year, invited some IOCs and the Attorney General of the Federation and Minister of Justice in relation to their probe into the allegations of Billions of Dollars worth of Nigeria's crude oil said to be missing between 2011 and 2014.