Appeal Court Refuses To Stay Proceedings In Jibrin's Case Against Speaker Dogara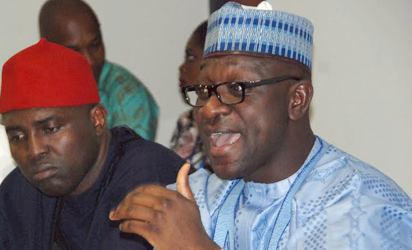 Estimated Reading Time: <1
The court of appeal Abuja division has refused to stay proceedings in the case filed by Abdulmumin Jibrin, lawmaker from Kano, seeking to challenge his suspension.
The suit has Yakubu Dogara and the house of representatives as defendants.
Jibrin was suspended for 180 legislative days (about one year) after he accused the leadership of the house of representatives of padding the 2016 budget.
On April 13, Emmanuel Oker-Jev, chairman house committee rules, and Ossai Ossai, chairman house committee ethics, had applied to join the suit in the lower court but they were denied.
The duo then proceeded to the appeal court to apply for a stay of proceedings in the case.
But at the appeal court on Thursday, the three-man panel of judges led by Abdul Aboki said that they do not grant such kind of application.
Earlier, Femi Falana, counsel to Jibrin, told the court that the application lacked merit.
He pointed out that those seeking to join the suit did not even seek permission of the court before bringing such an application before it.
Falana prayed the court to grant an expeditious hearing as the constituents of Jibrin have been illegally denied representation for almost a year.
After listening to the counsels, the panel dismissed the application and ordered that the substantive matter be heard at the federal high court, Abuja.
Jibrin's appeal challenging his suspension will now be heard on June 12.