Omoyele Sowore of Sahara Reporters Insists Senator Melaye Never Graduated from ABU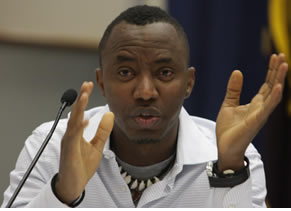 Estimated Reading Time: <1
The man whose online news medium first alleged that a Nigerian senator did not have a degree from a government-owned university contrary to the senator's claims has insisted that the record presented by the vice-chancellor of the university in question did not reflect the truth.

Omoyele Sowore, the founder of Sahara Reporters, said Monday that the vice chancellor of Ahmadu Bello University, Professor Ibrahim Garba, "cherry picked the 400 Level '3rd Semester' results" after he was told by unnamed officials of the university that "available records" could not back up Senator Dino Melaye's claims that he graduated from the school.

"The authentic records in our possession," he wrote, "shows that Melaye couldn't have graduated, he did not fulfil some core course requirements of which, for example, 'Geog 307 (Long Field Trip)' handled by one Dr Bello had to be met."

He also insisted that the absence of Melaye's name in the Convocation Brochure of Ahmadu Bello University, which combined graduating students from 1998/99-2000/2001 sessions, supported his claim that Melaye never graduated from the school.

But Professor Garba told the Nigerian senate's Committee on Ethics and Privileges on Monday that Melaye did finish from the school with a third class B.A. in Geography.

"From records, Dino formerly known as Daniel Jonah Melaye graduated from ABU, BA Geography," he said.

The Senate had on March 21, 2017, mandated the Committee to investigate Sahara Reporters' allegation that Melaye did not finish university education at ABU. This followed a point of order raised by former Leader of the Senate, Mohammed Ndume, during plenary.

Melaye, who also appeared before the Committee to defend himself against the allegation, presented documents such as acceptance letter, acceptance of offer of admission, result and final year dissertation to buttress his claims of being an ABU alumnus. He stated that he was yet to collect his original certificate from the university.

Curiously, however, the senator said he changed his name from Daniel Melaye to Dino Melaye but did not present any affidavit to back up that claim.