Nigerian Military Killed 150 Pro-Biafra Protesters – Amnesty International Says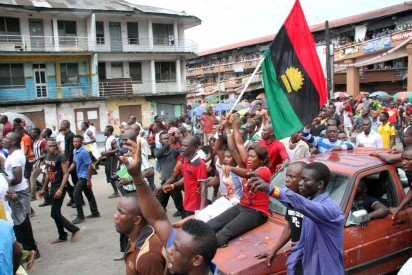 Amnesty International has accused security agencies of holding many pro-Biafra protesters incommunicado. 
In a report released on Wednesday, the human rights body said at least 150 protesters have been killed by security operatives in the south-eastern part of the country.
In November, the organisation put the casualty figure of those allegedly killed by the military at 150, but the army denied the allegation.
However, Amnesty international has refused to withdraw the statement.
"In south-east Nigeria, security forces led by the military, embarked on a chilling campaign of arbitrary arrests, extra-judicial executions and enforced disappearances," the report read.
"Many individuals are still being detained incommunicado while state security agents have killed at least 150 peaceful pro-Biafra protesters."
The group also said there appears to be an attempt to "suffocate freedom of expression", condemning the arrest of at least 10 journalists and bloggers in recent times.
"The past year has also seen a disturbing rise in arrests and intimidation of media professionals and activists in Nigeria," the report read.
"At least ten journalists and bloggers were arrested in 2016, some for alleged connections to Boko Haram.
"In January, members of the Nigerian army raided the editorial offices of Premium Times and arrested journalists Dapo Olorunyomi and Evelyn Okakwu. They were subsequently released but the move sent a clear message to intimidate journalists and the media.?"
The report also said the conflict between Boko Haram and the Nigerian army has affected 14 million people in the region.
The human rights body added that two million people need urgent humanitarian assistance in the north-eastern part of the country.
"In Nigeria's north-east, the ongoing conflict between the Boko Haram armed group and the country's security forces has affected more than 14 million people, with two million in need of urgent humanitarian assistance," the report read.
"The north-east of Nigeria descended into a major humanitarian emergency as a consequence of the conflict and the atrocities committed by all parties to the conflict. Once again, it is the poorest and most vulnerable people who pay the price.
"The armed conflict drove millions from their homes, leaving them living in squalid conditions in camps under heavy military guard and without adequate access to food, water and medical care. Throughout the year, hundreds died in these camps because of malnutrition."