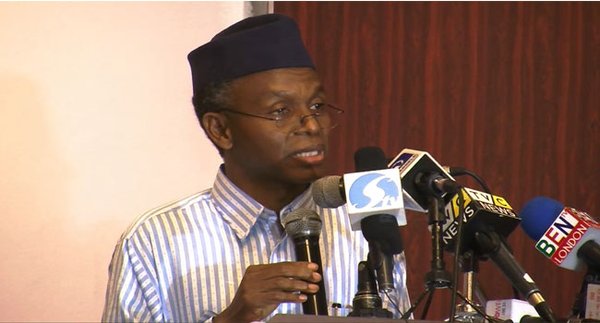 Kaduna State governor, Mallam Nasir El-Rufai has stated that he is not part of those who decide the affairs of the nation in Nigeria's power house- Aso Rock.
El-Rufai said despite his closeness to President Muhammamdu Buhari, he was not part of the cabals, who influenced things in the Villa.
Addressing some editors in Kaduna recently, the governor said he had so many things doing and did not have time to join the cabals.
He said, "It is not correct to say I am part of those that influence things in the Villa. Am I very close to Buhari? Yes. I worked very closely with him in the CPC (Congress for Progressive Change) when everyone had given up on him. I know him, I know how he thinks and he trusts me. He knows that I am driven by public interest. Do I participate in federal decision making? I don't.
"I am too busy addressing Kaduna problems to be part of it. When I am called for an opinion or when I happen to be around, and I have an input or if I see something going seriously wrong; I drive and go and see Mr. President I have heard A, B, C, D.
"I don't think it is not right, you should consider doing C, D, E. I do that and I drive back to Kaduna. My primary assignment is Kaduna. I am not involved in the Federal Government. People like to say and attribute so much to me, and sometimes it is good for me, it gives me a larger than life image. Is there a cabal?
"There is always a cabal. Even in your own newspaper houses, there is a cabal. Nobody can run an institution without a coterie of two, three, four trusted people. There is always a cabal; the issue is whether it is a positive or a disruptive cabal. Am I a member of the cabal? No, I am governor of Kaduna state; I work for Kaduna state 24/7."