Boko Haram Fighters Attempt To Overrun The City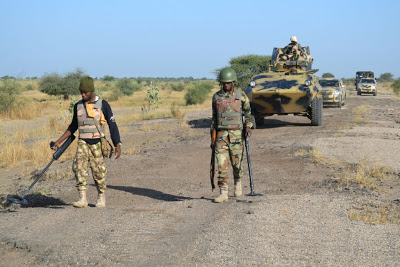 Three powerful bomb explosions and heavy gunfire were heard around Maiduguri city late Thursday evening, sending many residents into panic.
Sahara-Reporters sources say heavily armed Boko Haram fighters around attempted to attack Maiduguri through the newly constructed Customs House where IDPs from Mafa LGA are being camped but were stopped by the gallant military officers and members of the Civilian JTF who engaged them in a serious gun battle that lasted more than an hour.
An unconfirmed report said scores of civilians and all Boko Haram fighters that carried out the late Thursday evening attack were killed.
A statement from the Nigerian Army to NewsWireNGR shows a Nigerian Air Force (NAF) helicopter conveying personnel on medical outreach programme at Gwoza yesterday came under attack by members of the Boko Haram Terrorist (BHT) group. The Mi-17 helicopter was shot at severally by the insurgents however there was no casualty except for an airman that sustained bullet wound. The helicopter had departed from Maiduguri enroute the venue of the 2-day medical outreach programme in Gwoza when it came under attack by the insurgents.  Nevertheless, the pilot was able to fly the helicopter safely to and from its destination to enable the outreach programme continue uninterrupted.
Following the attack, the NAF immediately scrambled a fighter aircraft and helicopter gunship to the location between Bama and Gwoza to neutralise the threat. Intelligent report by ground troops confirmed scores of BHTs were killed, signifying that the air attack on the threat location was successful.