Clergy Wants Government To Establish Southern Kaduna Development Commission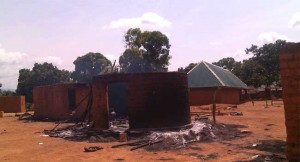 Rev. Cyrose Tukson of Go Rich Ministry, Abuja, has urged the Federal Government to establish a Southern Kaduna Development Commission, to rebuild communities destroyed by protracted violence in that area.
"Most communities have been destroyed; many of the inhabitants have no where to go and have become refugees in their country. Government should step in to assist them," he said
Tukson made the call in a sermon at ECWA Church, Rafin Gora, when the Church launched an appeal for N7 million to fund its Church rehabilitation project.
He explained that many had been killed, houses destroyed, and property reduced to rubles since attacks started in the area in 1987.
The clergy called for concerted efforts to rebuild the area to minimise the effect of the destruction on the people.
"The Niger Delta has a commission; only recently, too, a development commission was approved for the North East following the destruction of the area by Boko Haram.
"Similarly, the people of southern Kaduna, who have been under attacks since 1987, deserve a development commission after such massive destruction over the years," he opined.
He, however, noted that government agencies had been distributing relief materials to victims of the attacks.
"Relief materials are good, but that is not enough.
"Relief materials, no matter the quantum, will never rebuild communities destroyed over the years; what will address the protracted problem is a development commission like we have in the Niger D0elta and the north east."
The clergy called on representatives of the area in the national and state house of assembly to "push" for the establishment of the commission as part of service to their people.
Earlier, the minister in charge of the Church, Rev. Mapunu Yohana, had explained that the fund appeal was organised to raise funds to rebuild the Church which he said was "about to collapse".
(NAN)