Sokoto Governor Tambuwal Says Buhari "Succeeding In His Mission To Transform Nigeria"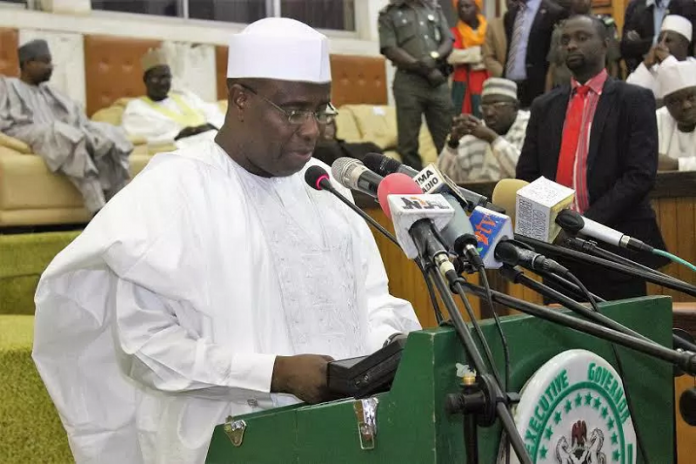 Governor Aminu Tambuwal of Sokoto State says President Muhammadu Buhari is succeeding in his mission to transform Nigeria.
Tambuwal spoke in Sokoto on Saturday night at a reception organised by the state government in honour of his predecessor, Sen. Aliyu Wamakko (APC-Sokoto)
The News Agency of Nigeria (NAN) reports that Wamakko was also among the 12 recipients of the 2016 prestigious Sheikh Abdullahi Fodio Merit Award conferred on them by the Gwandu Emirate Council of Kebbi State on Saturday.
Tambuwal said:" The president has succeeded in tackling the problem of insurgency in the North East while other security challenges are receiving the necessary attention.
" The once dreadful Sambisa forest had now been cleared of insurgents and the happy story goes on.
"President Buhari is also doing his best to doggedly fight corruption, diversify the economy and reduce poverty and unemployment.
" The president therefore needs the support and fervent prayers of all Nigerians, irrespective of creed, religion or ethnicity."
Tambuwal further extolled the invaluable contributions of the five former governors of the defunct "new PDP," saying their efforts saved democracy.
Those efforts, the governor averred, led to the merger of the legacy political parties that culminated in the formation of the All Progressives Congress(APC).
"That singular patriotic and bold move greatly helped in salvaging Nigeria sequel to the election of President Buhari.
" Nigerians will not in anyway regret reposing tremendous confidence in the APC at all levels," Tambuwal added.
The governor further said that the award was for the entire people of the state, noting that " Wamakko is a father to all and he is worthy of emulation."
Tambuwal commended the Gwandu Emirate Council for the gesture, urging Wamakko not to be complacent.
Also speaking, a former governor of Adamawa, retired Admiral Murtala Nyako, commended the existing cordial relationship between Wamakko and his successor.
" I am urging leaders at all levels to emulate the duo for peace, unity and progress of the country.
" Fervent prayers should also be sustained for the president and the nation at large," Nyako added.
Responding, Wamakko dedicated the award to Tambuwal and the people of the state.
"We will continue to strive to defend the dignity and honour of the APC, Sokoto state, Sultanate Council of Sokoto and Nigeria.
"The award will spur me to do more and let me caution political smugglers in the state that my existing relationship with Tambuwal remains solid and cordial.
"We will continue to shame the doubting Thomases, APC in the state is one and all acts of sabotage from within and without would amount to naught,'' he said.
The National Assembly, Wamakko further said, remains fully committed to the Nigerian project and Buhari's mission to salvage Nigeria.