Police Confirms 8 Dead in Multiple Suicide Attacks In Maiduguri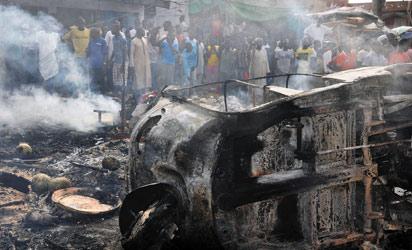 The Borno state command of the Nigeria Police Force has confirmed 8 people dead in multiple suicide attacks that rocked the state capital, Maiduguri on Sunday night.
Reports say 3 male suicide bombers were killed in the first attack alongside a member of the youth vigilante group who tried to stop them.
Borno state police spokesman, DSP Victor Isuku, said the suicide bombers were planning to strike in Muna town on the outskirts of Maiduguri when they were confronted by the vigilante group.
Isuku confirmed that 2 suicide bombers died in a second attack at Kaleri in the Gwange area, a highly populated part of Maiduguri town.
The 2 female suicide bombers detonated the explosives strapped on them leading to the death of two other persons.
Sunday's suicide attacks represent a drawback on the claims of the federal government and the military that the war against terrorism had been won.
This latest attack also comes barely a day after 5 soldiers were killed in Yobe state, a confirmation that the Islamist sect remained a potent threat.