Anuoluwapo Adebayo: @anu_chayil Talks about Tips on surviving Binge eating this Holiday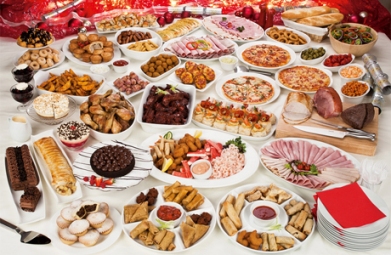 Estimated Reading Time: <1
Most of us lack discipline at this time of the year; with all the holiday parties and lazy days off work, there is the tendency to let go and drown in food and drinks. To avoid becoming depressed in January because you are now overweight, I have a few tips that have worked for me.
–          Remember that it is not only about pilling up the pounds but your general well being; do well to pay attention to what you eat; you may have allergic reactions to some food ingredients so be careful when 'trying something new'. I am sure you do not want to include treating your skin or vital organs to the pressure that comes with trying to lose weight in the New Year.
–          Drink a lot of water to stay hydrated and cleanse your system. Water is the most essential this season. And if you really do need sweet drinks, grab fresh juices and smoothies instead.
–          Add salads and fruits to your meals. This is easier said than done as the black forest cake and apple crumble with ice cream may know your first name but sometimes reaching for the fruit basket may be your life saver. Also go easy on the salad dressing, don't bath the healthy vegetables in cream and ruin it.
–          I always have a drink that acts as an improvised detoxifier for me; usually it is Green tea, honey and Lemon; I drink early in the morning on an empty stomach or last thing at night especially after a day of treating my stomach badly. However you can leave out the green tea if you do not have or you just can't handle it. Reports show that drinking honey (about a tablespoon in warm water and lemon) has the ability to burn stored fat in the body thereby aiding weight loss/detoxification. If nothing else, it helps with bowel movement and an overall good feeling.
–          Make sure you dance at the parties you attend; this is a great and easy way to stay active in order to burn all that food. Do not be that person who sits in a corner and eats all the food at the party; stand up, network and have fun.
–          Take walks because this is another easy way to get rid of all that extra food your body does not need; take walks in the evening with friends, family visiting from out of town or your partner; walk rather than drive to places not far from the house; take the stairs rather than the elevator (except you are all dressed up and on your way to the party, then by all means take the elevator as we do not want you sweating when you arrive at the event)
–          Give out your excess food; sometimes neighbours send you food or you host people and you end up with more than you need, be kind enough to share to those who do not have to eat this season. It is a good way to share love this holiday and to stop you from over eating. Sometimes because that whole cartoon of soda or bowls of food are just lying there, you may feel the urge to indulge.
–          I always judge myself when eating; I imagine people are starring and wondering why this beautiful person is eating like she will die. Lol! That is a bit extreme I know however I advice that we exercise caution and try to be disciplined by consuming reasonable portions even if the food is available. Do not be greedy and be nice to your body.
Note that we all have different body types and may respond to some of these practices differently; I advice that you know what your body really requires to stay healthy and happy. If you need advanced exercises or total abstinence from a certain food then please do the right thing.
I wish you a very Merry and guilt free Christmas as you celebrate with friends and family!