Nigeria's Amina Mohammed Named UN Deputy Secretary-General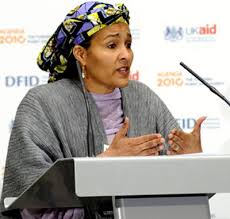 Amina Mohammed, minister of environment has been named deputy secretary-general of the United Nations (UN).
Antonio Guterres, UN secretary-general, made the announcement through Stephane Dujarric, his spokesman.
Guterres also announced the duo of Maria Viotti of Brazil and Kyung-wha Kang of the Republic of Korea into high-profile positions at the UN.
"I am pleased to announce that I will be appointing Ms. Amina J. Mohammed of Nigeria as my deputy secretary-general, and Ms. Maria Luiza Ribeiro Viotti of Brazil as my Chef De Cabinet," he said in a statement.
"I also intend to create the position of special advisor on policy, and to appoint Ms. Kyung-wha Kang of the Republic of Korea to this new role.
"I am happy to count on the efforts of these three highly competent women, whom I have chosen for their strong backgrounds in global affairs, development, diplomacy, human rights and humanitarian action.
"These appointments are the foundations of my team, which I will continue to build, respecting my pledges on gender parity and geographical diversity."
Mohammed served as UN under-secretary-general and special adviser on post-2015 development planning to Ban Ki-moon, outgoing secretary-general.
She was instrumental in bringing about the 2030 Agenda for Sustainable Development, including the sustainable development goals.
Before joining the UN, Mohammed worked for three successive administrations in Nigeria, serving as special adviser on the millennium development goals.
She provided advice on issues including poverty, public sector reform and sustainable development, and coordinating poverty reduction interventions.
She is also an adjunct professor in Development Practice at Columbia University, and serves on numerous international advisory boards and panels, including the UN secretary-general's high-level panel on Post-2015 development agenda.
Others include the Independent Expert Advisory Group on the Data Revolution for Sustainable Development, and the Global Development Program of the Bill and Melinda Gates Foundation.
Born in 1961, and educated in Nigeria and the UK, Mohammed is married and has six children.