APC Wins Ifako-Ijaiye Federal Constituency By-Election In Lagos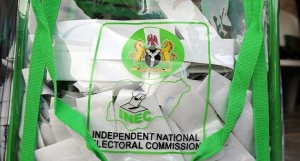 Nurudeen Akinwunmi, Candidate of the All Progressives Congress (APC) on Saturday defeated his opponents to emerge winner of the Ifako-Ijaiye Federal Constituency By-Election in Lagos.
The returning officer of the election, Prof. Clement Aghatise, made the declaration at the INEC office in Ifako-Ijaiye Local Government, minutes before midnight.
Declaring the winner, Aghatise said that Akinwunmi polled 7640 votes to defeat his closest rival, Babatope Akinyele, candidate of Peoples Democratic Party (PDP) who polled 1771 votes.
According to him, Social Democratic Party (SDP) polled five votes, Action Alliance (AA) had 14 votes, African Democratic Congress (ADC) had 158 votes while Alliance for Democracy (AD) had 101 votes.
Aghatise said that the total number of registered voters was 339,864; total number of accredited voters was 10,051; total number of valid votes was 9689; the total number of invalid votes was 195, while the total votes cast were 9884.
"I, Prof. Clement Edokpayi Aghatise, hereby certify that I was the Returning Officer for the Ifako/Ijaiye Federal Constituency By-Election held on Dec.3, 2016. That the election was contested, that Akinwunmi Nurudeen Olaitan of APC, having satisfied the requirements of the law and scored the highest number of votes is hereby declared the winner and he is returned elected, " he said.
Some of the party representatives who spoke to NAN expressed mixed reactions to the results.
Chidi Williams, an ADC party agent, expressed dissatisfaction with the process.
"There were a lot of malpractices; it was not really free and fair. We had records that some people who had lost their PVCs were allowed to vote in some polling units. We want INEC to detach itself from political parties and not allow itself to do what is unethical. INEC should work more on neutrality," he said.
A PDP representative at the collation centre, Sunday Kudehindu, also said he was not satisfied with the process, stressing that the ruling party had continued to induce voters with money.
Kudehindu said that INEC had not totally become an unbiased umpire.
The APC representative at the centre , however, refused to talk to press, saying that he had received an instruction not to grant interview.
The by-election was occasioned by the death of Elijah Adewale, who represented the constituency at the Federal House of Representatives.
Adewale died in Abuja on July 20.
NAN