Buhari Was Sent By God To Save Nigeria From Collapse – Oyegun Declares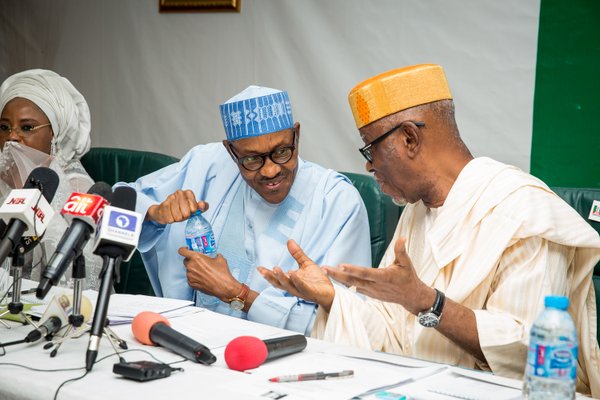 Estimated Reading Time: <1
The National Chairman of Nigeria's ruling All Progressives Congress, APC, says God sent President Muhammadu Buhari to save Nigeria from collapse.
The News Agency of Nigeria reports that Mr. Oyegun made the observation in Sokoto on Friday when he declared open a three-day retreat organised by the Kano State Chapter of the party for its officials and stakeholders on political party management.
Mr. Oyegun said: "Buhari was God-sent at the most crucial time in Nigeria's history.
"He inherited a comatose economy and he has been strenuously working to deliver on his campaign promises centred on the economy, security and fighting corruption.
"Insurgency has been tamed, while the issues of militancy and other related security challenges were being diligently attended to by the President."
Mr. Oyegun also said that the president was being so "frugal" with every kobo that accrued to the nation, saying that the economy would soon bounce back.
The party national chairman said that no sane and patriotic Nigerian would be pessimistic about the way Mr. Buhari was uniquely tackling corruption.
"Buhari is generally working tirelessly to make Nigeria a better place for all Nigerians," he said.
Mr. Oyegun stressed the need for internal democracy as well as ensuring the supremacy of the party.
The Kano State Governor, Abdullahi Ganduje, said that the retreat was organised for stocktaking on the achievements, problems and to chart the way forward.
Mr. Ganduje said that APC in Kano was still united and indivisible.
Governor Aminu Tambuwal of Sokoto State said the retreat would help to keep the party on the right track.
Mr. Tambuwal said: "This is to ensure thatKawu Sumaila, the Senior Special Assistant to the President on National Assembly Matters, restated that governors of the party were its due leaders in the states.
The Chief Whip of the House of Representatives, Alhassan Doguwa and a chieftain of the party in the state, Bashir Tofa, commended the wisdom of organising the retreat.
The Zonal Vice Chairman of the party, North West, Inuwa Abdulkadir, said that the retreat was the first of its kind organised by any of the state chapters of the party.
(NAN)