"Sometimes My Wife Joins Commissioners To Condemn What I Do" – Okorocha Explains Why Aisha Buhari Didn't Do Wrong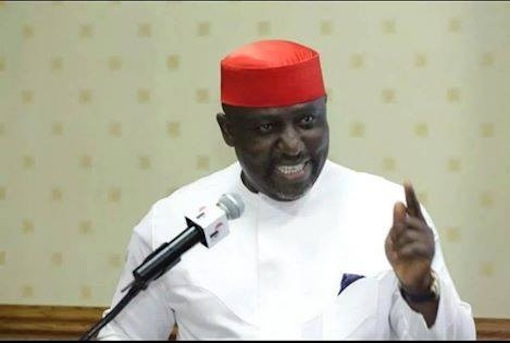 Estimated Reading Time: <1
The governor of Imo state, Rochas Okorocha, has weighed in on the controversy over comments made by wife of the president, Aisha Buhari, in a BBC interview last week, and the response of Pres. Muhammadu Buhari afterwards.
He said Aisha's intention was not to bring down her husband's government but to serve as a bridge between her husband and aggrieved party members.
"I can put it this way that it's a joke taken too far outside the shores of Nigeria. If you've been with the president and where he cracks jokes, you'd understand that it could be his style of jokes because even when he was responding, he was smiling," Okorocha told state house correspondents on Sunday.
Okorocha who was in Germany with the president when the controversy started, said that the responses given by Buhari and Aisha were both taken out of context.
He pointed out that the president has "his five daughters having masters and PhD and his wife educated and putting women in key positions in the country."
Citing a personal example, Okorocha said as governor there are times when his wife "joins commissioners and my workers to condemn what I do. That does not mean she is fighting me, rather a bridge of peace between me and them."
Aisha Buhari had said in her interview that if Pres. Buhari does not shake things up soon with his appointments, she may not back his 2019 reelection efforts. She said a small group of people controlled things in the government.
In response, the president said in Germany that he doesn't know which party his wife belongs to, but she belongs to his kitchen, living room and "the other room."
Okorocha advised Pres. Buhari to heed his wife's advice.
"If there is a clarion call for Mr. President to take a look at his cabinet and bring in more people, there is nothing wrong," he said. "If everyone keeps saying the same thing, there may be sense in what they're saying. But that's not really the situation that would create for a big hullabaloo."
The governor pointed out that some members of the APC do not feel like the president is carrying them along.
"I know that many of them complain every day. They want board appointments released so that there will be calm. The people from the southeast said they have not been appointed; the people from the northeast and even from the northwest where Mr. President comes from said that have not been appointed," he said.