People Want To Use #BringBackOurGirls To Fraudulently Raise Funds, Group Laments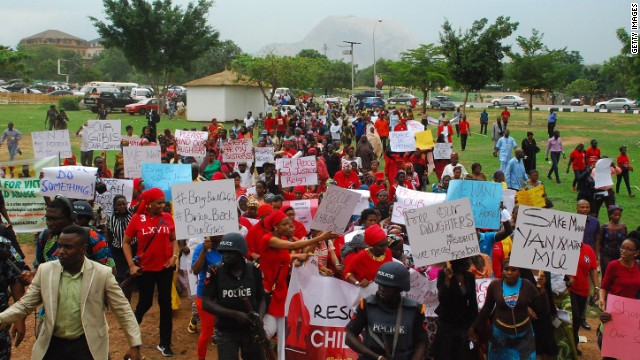 The #BringBackOurGirls campaign has alerted the public that people who aren't part of the group are out to us its name to fraudulently raise funds for Chibok girls.
The group, in a statement on Monday, said, "we stumbled upon information of an event tagged "Official Inauguration and Signing of Memorandum of Understanding (MOU) on the Chibok Girls Endowment Project" organised by the "Peace Corps of Nigeria" and "Africa Support and Empowerment Initiative", with Hadiza Buhari-Bello.
"We are shocked, perplexed and completely dumbfounded to see the bold inscription of our hard-earned name, #BringBackOurGirls, on the event's backdrop."
The statement, jointly signed by the its leaders, Aisha Yesufu and Oby Ezekwesili, said the group wasn't a party to the event and hadn't information about on it.
"We urge the general public to disregard attempts at linking our movement to this highly suspicious event," said the group which has been at the fore-front of the campaign for the release of the over 200 Chibok school girls abducted by the Boko Haram terrorists in 2014.
The group, which demanded a retraction and an apology from the organizers of the event, said it has contacted its lawyer over the incident. It advised law enforcement agents and the public to be on the look-out for people who may be planning similar activities to deceive local and international communities.
"After 902 days of painstaking advocacy, it is disheartening and unfortunate to suddenly see attempts, by external actors, to use it for selfish purposes. We have carefully built our reputation as a well-organized and disciplined global movement that is completely self-funded.
"The deliberate decision, to remain funded by sacrificial contributions of members for our very negligible needs, is the reason we are solely a Citizens' Movement, and not an NGO. It will be highly injurious to allow it be dragged in the mud at this point."