Anti Grazing Law: Governor Fayose Now Arresting Cow In Ekiti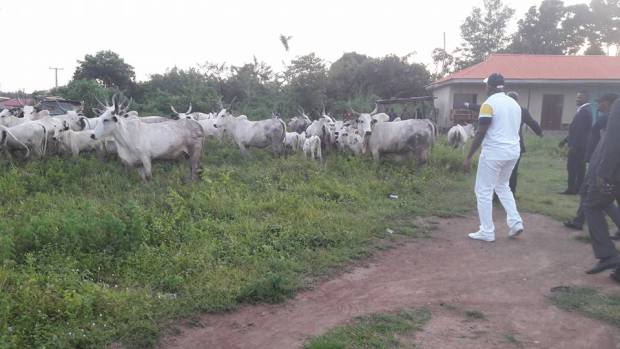 Estimated Reading Time: <1
Governor Ayo Fayose of Ekiti state directed youths to 'arrest' a cow on Wednesday.
According to his spokesman, Lere Olayinka, the governor was on his was to Ikole Ekiti when he came across a group of herdsmen and their cows along Afao Ekiti road, Ado Ekiti.
Olayinka said, "the governor demonstrated the seriousness of the State Anti Grazing Law by personally seeing to it that one of the COWS was 'arrested' by youths who chased the cows after the herdsmen ran into the bush upon seeing the governor's security men. The remaining cows ran into the bush too."
Gov. Fayose recently signed an anti-grazing law in the state titled, "Prohibition of Cattle and Other Ruminants Grazing in Ekiti, 2016." The law prescribes a jail-term of six months for herdsmen who graze their cattle outside specified times, as well as those who carry weapons including cutlasses and catapults.
The governor's spokesman who disclosed the arrest on his Facebook page, said that the Ekiti Grazing Enforcement Marshall (EGEM) will "start work in few days time" and accompanied it with photos of new vehicles bought for that purpose.