We Deliberately Left "Smelly" Refuse Along Major Roads To Punish Indigenes – Imo Govt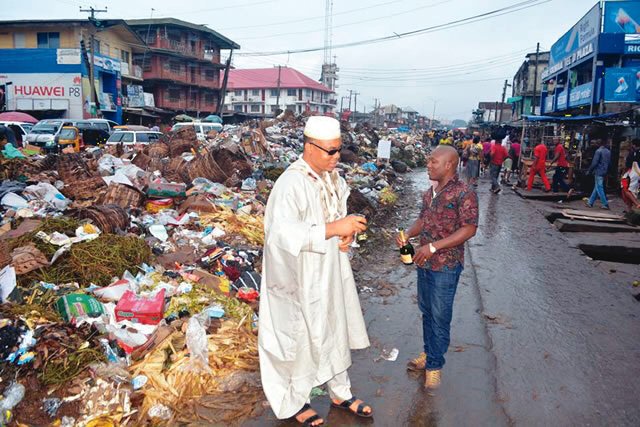 Estimated Reading Time: <1
Imo State Government yesterday, affirmed that it deliberately abandoned the mountain of smelly refuse along the ever busy Douglas Road, Owerri, to get back at the indigenes who have been fighting the administration.
Governor Rochas Okorocha's Chief Press Secretary, CPS, Mr. Samuel Onwuemeodo, made the disclosure during an early morning public accountability phone-in programme anchored by Hot 99.5 FM, Owerri.
"Government deliberately abandoned the refuse along Douglas Road, Owerri, to get back at Owerri people who have been battling the state government, over the relocation of the market", Onwuemeodo said.
The Governor's CPS, who poured invectives on the leadership and indigenes of Owerri municipality, also fumed that "Owerri people must be made to understand that they cannot eat their cake and have it."
He further explained that "there is a court order restraining government from tampering with the market and this also explains why we left the refuse."
Most of the citizens who called into the programme, described the abandonment of the huge refuse as "a damnable plot to inflict hardship and disease on the people and not to respect a court order."A caller, who simply identified himself as Amanze, wondered why and how a government should deliberately hoist pain and disease on its people, in a democracy.
"From what the Governor's Press Secretary has said, it is now very clear that the palpable hatred which Owerri people have been complaining about is real," Amanze said.
While recalling that Owerri used to be the cleanest city in Nigeria, Amanze, however, said that "the Governor must hate Owerri so much to allow this level of devastation and dirt in the city."
My Deputy not incoming Governor of Imo —Okorocha Meantime, the Imo State Governor, Rochas Okorocha has said that his Deputy, Eze Madumere will not succeed him as the next Governor of the state, even as he said that those who will assume the leadership of the state in 2019 will be politicians who are "rescue mission compliant." Okorocha spoke yesterday at Concord Hotel, Owerri, during the launch of the book written by Mr Peter Clever titled: Eze Madumere: A True Manifestation of a Loyal Prince."
He said: "I have not decided who will be the next Governor of Imo state. I want to also tell you that, this is not a launch for a path for Madumere as the incoming governor of the state. I want to say this before you start to distort the political landscape of Imo State. "But he is my son in whom I am well pleased. I have confidence in him. The joy of an aging father is to see the son rising."