"If Kalu Made Me Governor, How Come He Has Been Unelected Into The Senate 3 Times" – Dirty Fight Between Former Abia Governors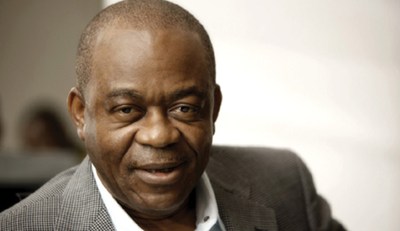 A former governor of Abia State, Chief Orji Uzor Kalu says he bears no grudge against his estranged political godson, Senator Theodore Orji, but vowed never to have any dealing in life with his successor, adding that he has no reason at all to envy Orji.
Kalu spoke while being hosted by the traditional prime minister of Ibeku Kingdom, Chief Uche Akwukwuegbu, while responding to pleas by paramount ruler of Ibeku, Eze Samuel Onuoha, and others who spoke, that he should forgive them for the alleged maltreatment given to him by his successor and kinsman, Senator Theodore Orji.
This was as Senator Orji dismissed Kalu and those who hosted him as unserious people, mocking his predecessor as one who needs all the attention, propaganda and media coverage because of his desire to become the President of Nigeria, the Confederation of Africa Football, CAF, and FIFA.
While attributing the political woes afflicting his estranged political mentor to punishment by God as Kalu played God, Orji wondered why the former governor has not been able to make himself Senator, since he claims to have the magic wand with which to make people governors.
The newspaper publisher, had assured his host that he has nothing against Senator Orji but insisted that he would have nothing again to do with him, explained that he has nothing against the incumbent governor, Dr. Okezie Ikpeazu as he has no reason to quarrel with him.
Kalu spoke on Friday in Umuahia, the Abia capital, stressing that during his time as governor, he showed love and care to Ibeku people because he does not discriminate.
According to him, "One man cannot run government; I believe in free society. I can't hate Okezie (Gov. Ikpeazu) because of T. A. I have nothing against Okezie. I had case with T. A. not Okezie. I cannot transfer somebody's sin to the governor. He has not offended me and I have nothing against him.
"Since I left office, I have been on my own. I never owed anybody throughout my tenure as governor. I paid everybody, both indigenes and non-indigenes because we are all Igbo and Nigerians. Since I left as governor, I have never bothered anybody but they told lies against me that I collected all the money from the state. A liar is a liar and will remain so till end of life. But I urge Abians to hope for good. Things will be better again," Kalu added.
But responding in a statement signed by his Media Adviser, Mr. Don Norman Obinna, Senator Orji stated that "Kalu has unconsciously brought the wrath of God upon himself by his constant assumption of God".
He told Kalu "that nobody has the power to make anybody governor if the plan was not the will of God as God is the only being that has the power and the ability to change a man's status.
"If Kalu claimed that he made me governor, who then made him governor in 1999 or did he make himself?
"If Kalu has the magic wand to make people governors as he often claims in his laborious effort to garner sympathy, how come he has not been able to make himself Senator, one of the positions he craves for and has contested on three occasions?" the lawmaker queried.
He said that he has also "forgiven Kalu but will not forget how he acted as de-facto governor for three years and almost deprived the good people of Abia State the dividends' of democracy through his excessive demands and family burdens.
"A liar will always be a liar no matter what. I am not taken aback by Kalu's antics; he is the one that needs all the attention, propaganda and media coverage, having the desire to become the President of Nigeria, CAF and FIFA. My responsibility is to provide qualitative representation to the people of Abia Central and that I am committed to doing and not competing with Kalu," Orji stated.