Ahmadu Ali Says If Buhari Contests The 2019 Presidential Election, He Will Win Again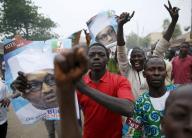 Estimated Reading Time: <1
Ahmadu Ali is a retired Army Colonel, a physician and politician. In 1973, he became the first Director-General of the National Youth Service Corps (NYSC), a position he held until 1975 when he was appointed Minister of Education, during which he was nicknamed 'Ali Must Go' on account of a nationwide students protest. He served also as Chairman of the PDP National Working Committee (NWC) from 2005 to 2007. By the time he finished his assignment as head of 'africa's largest party', the Kogi State-born politician had acquired another controversial alias; the 'Garrison Commander.' In the last general elections, he was the Director-General of the Goodluck Jonathan/Mohammed Sambo Presidential Campaign Organisation, which saw the PDP out of power, after a 16-year rule.
Even under the current PDP crisis, his wife, Mrs. Ali is a chieftain of the Ali Modu Sherrif-led PDP faction while he remains with the Ahmed Makarfi faction.
When he spoke with JACOB EDI of the Sun Newspaper at his Maitama Abuja residence, he didn't mince words when he said President Muhammadu Buhari will win a second term if he offers himself for re-election. This is in spite of the hue and cry by Nigerians over the current economic hardship.
He also accused western powers of being behind the crisis within the PDP with the ultimate aim of destabilizing the country for their economic and political gains.
As things stand now, do you see the PDP recapturing power in 2019?
By the grace of God, I see it as a contending force for power in 2019.
I am not a prophet, so I cannot prophesy whether they will win or not.
Why do you say so?
Because Buhari's performance that you are criticizing now, give him another year you will be singing his praise and as far as Nigeria is concerned they have forgotten the past, they will vote for him unless he is not standing. If Buhari is standing in 2019, people will vote for him.
I am sure you must have heard talks about restructuring, fiscal federalism; some part of Nigeria threatening secession, what do you make of this?
What I make of it all is hot air balloons because when you look at restructuring, the definition varies from one writer to another and we ourselves have not even defined what is restructuring yet.
Some think restructuring means the six zones, who created them? Nobody. There is no constitutional backing for the zones we are working with now; it was a creation of Abacha to capture power by donating premier, vice premier, first vice president, second vice president, so that every zone will have something, that was his idea.
The politicians just find it convenient and they gravitated to using it, it has no constitutional backing at all.
People say I am controversial… these zones were created for the south east to come around and say their own zone has the least number of states, I think they are being clever by half, they don't. If there is anybody that should complain about the number of states in each zone, it should be southwest.
In the south west, they also removed Edo and Delta state; they are left with the core Yoruba states alone from the old western region.
The old eastern region was the five Igbo states and Bayelsa, Rivers, Akwa Ibom and Cross River, that was how the equation was.
So, they only took two states from western region, joined it to a group they call the south south now but the whole of that south south belongs to the old eastern region of those days. So, what makes them feel that anybody is cheating them, nobody is cheating them.
But the southeast is talking about pulling out of Nigeria.