Nigerian Inflation Accelerates In August As Food Prices Climb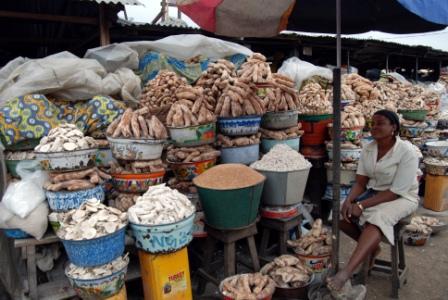 Estimated Reading Time: <1
Nigerian inflation accelerated for a tenth consecutive month in August as food prices climbed, strengthening the case for the central bank to raise interest rates again even as the economy contracted in the second quarter, Bloomberg reports.
The inflation rate in Africa's most populous country increased to 17.6 percent from 17.1 percent in July, the Abuja-based National Bureau of Statistics said in an e-mailed statement Friday. Prices rose 1 percent in the month. The median of 14 economist estimates compiled by Bloomberg was 17.7 percent.
The naira has lost almost 40 percent of its value against the dollar since June when the Central Bank of Nigeria removed the peg of 197-199 per dollar after more than a year. That increased price pressures in the nation that imports goods from fuel to industrial inputs, and could force the Monetary Policy Committee to further increase rates from 14 percent at its Sept. 20 meeting. The committee has tightened policy by 300 basis points this year.
"We expect inflation to peak at close to 19 percent in September or October this year, and average around 16 percent for the year" if the central bank continues to increase interest rates and the availability of foreign exchange improves, Raza Agha, chief economist for Middle East and Africa at VTB Capital in London, said in an e-mailed response to questions before the data was released.
Food inflation accelerated to 16.4 percent in August from 15.8 percent in July. Food prices rose 1.2 percent in the month.
Nigeria's inflation is at the highest since October 2005, according to data on the central bank's website, at a time when output is at the weakest in more than two decades. Gross domestic product shrunk by 2.1 percent in the second quarter from a year earlier, which followed a contraction of 0.4 percent in the previous three months. The International Monetary Fund forecast the economy will contract 1.8 percent this year.