Budget Padding: Justice Okon Abang Declines To Hear Lawmaker Abdulmumin Jibrin's Suit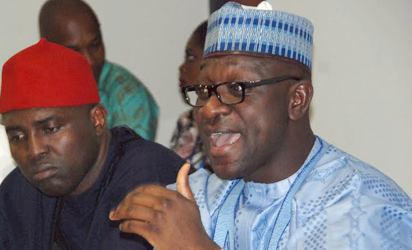 An application by former chairman of Appropriation Committee in the House of Representatives, Abdulmumin Jibrin, to stop his alleged suspension has suffered a setback.
Jibrin had in a suit before a Federal High Court in Abuja sought to stop the alleged plans by members of the House to suspend him over alleged budget padding.
However, Justice Okon Abang, today refused the application on the grounds that it did not comply with the rules of the court on vacation cases.
The judge said Order 46 Rule 5 of the Federal High Court Civil Procedure Rules 2009 provides that only matters that requires urgency can be filed during vacation, maintaining that no leave was sought disclosing the urgency of the matter in court.
Following the judge's directive that the applicant "do the needful to comply with the provisions of the rules of this court," Jibrin's counsel, Abdulhamid Mohammed has filed an application of urgency for the court to hear the matter tomorrow.
Jibrin in an affidavit against principal officers of the House and the police averred that if they "are not immediately restrained, he would be suspended as a member of the House and this will greatly prejudice him and thousands of his constituents who rely on him to afford them their due representation in the federal legislature."
Jibrin was on August 9 questioned by the Economic and Financial Crimes Commission (EFCC) on the alleged N4.3 billion projects he allocated to his Kiru/Bebeji federal constituency of Kano State.
He had joined as parties in the fundamental rights suit: the Police, the Inspector-General of Police, the Commissioner of Police, FCT Command; Speaker Yakubu Dogara, his deputy Yusuf Lasun, Alhassan Doguwa Leo Ogor and the Attorney-General of the Federation.