Sultan of Sokoto Begs Politicians To Forget The Blame Games, Unite, To Fix The Economy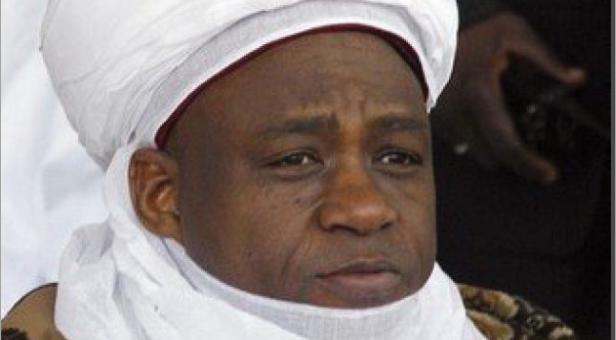 Estimated Reading Time: <1
The Sultan of Sokoto and the President General of the Nigerian Supreme Council for Islamic Affairs (NSCIA), Alhaji Muhammadu Sa'ad Abubakar, has warned Nigerian leaders to stop what he described as "blame game and face reality" as regards the bad state of the nation's economy.
He asserting that unless political leaders abandons their political affiliations and come together to fix the economy, the Nigerians will continue to groan, adding that though things are currently difficult for but Nigeria is better than some industrialized nations who are facing more crisis in different spheres.
Sultan Abubakar also urged political leaders in Edo state to avoid violence in the forthcoming governorship elections, stressing that the people must be allowed to vote candidates of their choice because "when you have something on ground, the people will compare the work and that of the other parties and make their choice".
Speaking when he paid a courtesy visit on Governor Adams Oshiomhole, His Eminence who informed the governor that he was in the state for the annual meeting of the Nigerian Supreme Council for Islamic Affairs, said all hands must be on deck to achieve the Nigeria of our dreams.
His words: "Nigeria though is experiencing difficulties but we are much much better than so many other countries. It is only what you read in the papers that disturbs you, but most industrialized countries are worst than Nigeria but you hardly hear them. We have our own problems let's put hands together irrespective of religion. Let us salvage our economy, make the country work, let people feel free to walk at 2am.
"That is the country we crave for and we must all work for that to happen. We cannot sit down and think things will work out for us, no. I heard the governor (Oshiomhole) speaking on governors who are not paying salaries. And this is one of the things increasing criminal activities. Workers are not paid and they have families and when you are hungry you will be angry. "So we know problems in the country so as leaders let's put hands together and see how we can resolve them. Nobody should blame anybody, let's stop the blame game and face reality. Let us come together irrespective of party affiliation and move this country forward".
While commending Oshiomhole for the developmental strides in the state, he said "We are very proud of your achievements in the last eight years. We have so many contenders but only one will occupy this seat. Only God will bring your replacement. Carry your campaigns in peace and harmony. Issue related campaigns, convince people to vote for you don't confuse them. We pray God to bring a leader who will work more than you.
"We have seen tremendous changes from the Edo we use to know and we believe that such changes can only come from people who are committed to making the lives of people better, God Almighty will always uplift such leader. We urge you to continue to work for the state and Nigeria as a whole.
"We want to call on all politicians in Edo state as you are preparing for elections in September, to put the interest of Edo state first and the common man who lives in the state because without the people there will be no leader. And throughout your campaigns and the swearing in you will still need people, so please you people should put the interest of Edo state first.
"There should be no violence of any kind and when elections will hold let it be free and fair. And whoever the Almighty picks as successor to the comrade governor should be supported by everybody".