Aregbesola Slams Critics Who Want Him To Resign After Osun WAEC Woeful Perfomance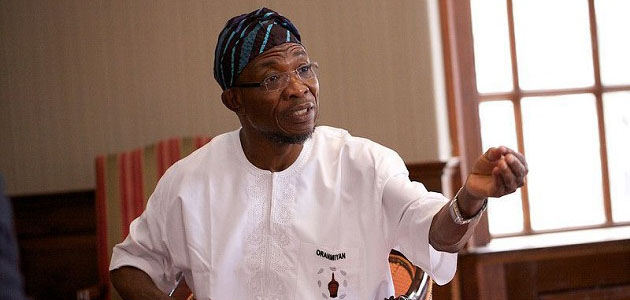 Governor Rauf Aregbesola of Osun State has attacked critics demanding his resignation for the state's woeful performance in the last Senior Secondary WAEC examinations results.
The governor's spokesperson, Semiu Okanlawon, said Wednesday that those calling for Mr. Aregbesola's resignation were "naive and ignorant of statistics".
Mr. Okanlawon said the call stemmed from the "usual lack of knowledge of performance charts and attention to details that the opposition elements are notorious for".
He said records and statistics of students put forward by the government in the past years have shown that there is improvement in percentage of overall results.
"Those who say Osun is declining are not being honest. The following data will show their claims to be totally unfounded. The performance of pupils has not gone down under the watch of Aregbesola.
"In 2007, the state government put forward 36,171 candidates for WAEC examination out of which 2,483 representing 6.86 per cent had credit pass in five subjects, including English and Mathematics.
"In 2008, it was 37,715 candidates with 3,813 pass, representing 10.11 per cent. In 2009 it was 39,676 candidates, with 5,545 pass, representing 13.98 per cent. In 2010 it was 43,216 candidates, with 6,777 pass, representing 15.68 per cent. If you put these four years together, you will get an average of 15.68 per cent.
"Put side by side when Aregbesola's administration started sponsoring candidates for WAEC in 2011. That year, it fielded 53,293 candidates, had 11672 pass, representing 21.98 per cent. In 2012, it fielded 51,463 out of which 11,431 passed, representing 22.21 per cent. In 2013, it also fielded 47,013 candidates, recorded 9,301 pass, representing 19.78 per cent.
"In 2014, government sponsored 47,672 candidates, 9,316 of them passed, representing 19.54 per cent. The average performance for Aregbesola's first four years was 20.88 per cent. Compared with the average performance (13.26 per cent) of the three years that preceded it, the percentage improvement in performance during Aregbesola's tenure is a huge 57.46 per cent," Mr. Okanlawon said in a statement.
He said the improvement was result of strategic planning by the administration.
"The first task of his administration was to convene an education summit which was chaired by Prof Wole Soyinka. Since then, all the interventions in the education sector have been the outcome of that summit," the statement added.
The statement said the Aregbesola administration was constructing 100 elementary schools, 50 middle schools and 20 high schools out which 14 elementary schools, 15 middle schools and 11 high schools have been completed in addition to rehabilitating the existing ones.