63 Trucks of Approved Presidential Grains To Northeast States Yet To Be Delivered – Ndume Raise Alarm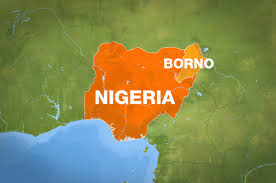 Senator Muhammad Ndume, the Senate Leader, said on Monday that 63 out of the 103 trucks had yet to be delivered four months after approval by the Presidency.
Ndume, who represents Borno South at the National Assembly, told newsmen in Maiduguri that only 53 trucks had been delivered.
The News Agency of Nigeria (NAN) reports that the Presidency approved the grains for release to Borno from the National Strategic Grains Reserve in April.
President Muhammadu Buhari had in April ordered the immediate release of 10,000 tons of grains to the six North Eastern states to cushion the effect of the Boko Haram insurgency.
But according to Ndume, "the contractor is supposed to have delivered 103 trucks of assorted grains for us in Borno for sharing to the people.
But he only delivered 53 trucks, the authorities are on it to get the remaining 63 trucks."
Ndume said that the problem was uncovered by the presidency after intelligence reports.
President Muhammad Buhari is very concerned about the issues in the North-East. What brought me to the state is to inquire about the true situation on ground regarding the grains' release.
Mr President had an intelligence report that the grains had not been released so he called me and asked me to find out the truth," he said.
Ndume said that it was discovered after an investigation that the contractor had diverted 63 trucks out of the 103 meant for the state.
The contractor has diverted the 63 trucks of grains; the EFCC has already arrested him.
Our original plan was to start sharing the grains but we cannot distribute only 53 trucks now," he said.
Ndume expressed gratitude to Buhari for his concern on the humanitarian crisis in the North-East.
We are grateful for his concern on the humanitarian crisis in the North-East.
Like I said, we discuss most often on the issue and when I told him about the devastation in Bama and Gwoza where the entire houses and infrastructure were destroyed, he felt very sad," he said.
Last week we spent almost 2 hours discussing with the president on the issue of hunger, starvation, resettlement and rehabilitation of the North-East.
I think that he is genuinely concerned about the problem because he also has independent sources of information," the lawmaker said.
He also expressed optimism that the National Assembly would pass the North East Development Commission Bill as soon as possible.
The House of Representatives has already done so.
The senate was almost done with it too but for some little hiccups due to the source of funding of the proposed headquarters," Ndume said.
Ndume said that the issued had been resolved by the leadership.
We are hoping that immediately we resume, it will be a priority to all of us as everybody is supportive of the bill.
The passage of the bill is crucial for effective frame work for the rehabilitation of the North-East devastated by the Boko Haram insurgency," he said.(