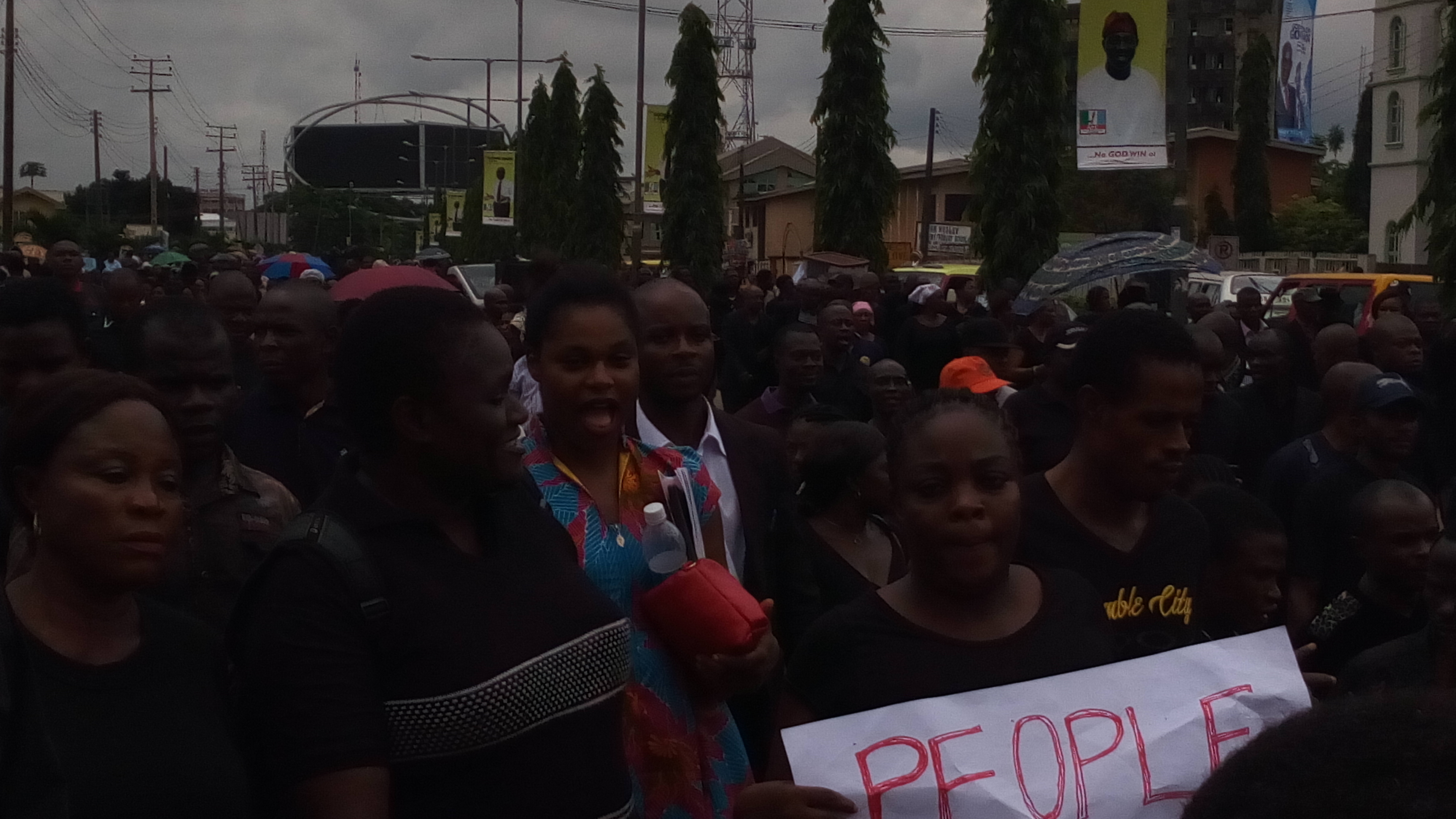 It was a sad day in Benin, the Edo capital, on Wednesday, as a civil servant slumped and died during a protest march over the refusal of the state government to pay salaries of local government workers.
The workers, all dressed in black, blocked sections of the busy Ring Road holding placards and chanting anti-government songs while lamenting their plight. No Edo local government worker has been paid in 2016; with the worst hit being Egor LGA workers who are being owed 18-months salaries.
It was in the midst of the protest march that a middle-aged male protester, Peter Ayewoh, from Esan North-East local governemnt council slumped and gave up the ghost. His body has been deposited in Uromi after the hospital certified him dead.
As news of his death filtered through the crowd, protesters boiled in anger and the mood went sour. Some labour members made a move to attack a campaign vehicle belonging to the APC governorship candidate, Godwin Obaseki, but were restrained by their leaders.
During the protest, labour leaders and members took turns to condemn the actions of the Edo state governor, Adams Oshiomhole, a former union president.
"He came from us but he has used and dumped us," said Comrade Edward Young Ilenikhena, the state chairman of the National Union of Local Government Employees (NULGE), to the protesters. "But there will be no retreat, no surrender until he pays us."
Oshiomhole has said he will not pay the local government workers because local councils in the state are autonomous and not his responsibility. He also accused local government employees of corruption. Oshiomhole said that workers are being sponsored by opposition politicians to stage protests at this time because of the upcoming governorship poll in the state.
The workers however dispute the governor's claims, describing him as "wicked" and a "liar." The state and local governments share a joint account from which the governor made deductions in the time of boom but refuses to take responsibility now that there is a shortfall in revenue.
Oshiomhole's claim of local government autonomy is unfounded. No local government area in Nigeria has autonomy. A 2015 move to amend the constitution and grant them autonomy failed as majority of state assemblies opposed it.
National president of NULGE, Ibrahim Khaleel, was also in Benin in solidarity with the Edo workers. He slammed "the inhuman policies" of Oshiomhole and said that the national secretariat of the union has been relocated to Edo state.
Khaleel disclosed that a meeting on Thursday between labour leaders and government officials ended in deadlock because of the "blackmail, intimidation and lies" by Gov. Oshiomhole.
He condoled labour members in the state over the death of their colleague in the course of the protest.