282 Passengers on Emirates Airline Flight After It Crash-landed And Caught Fire In Dubai Airport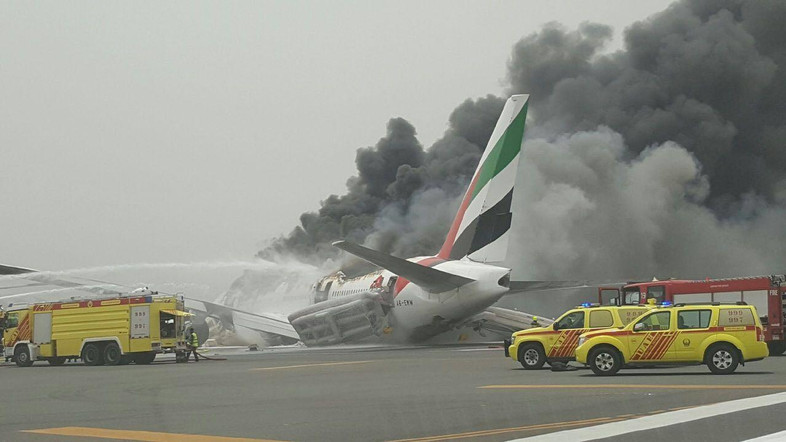 Emirates plane catches fire as it crash landed at Dubai Airport photo- Al-Arabiya news)
An Emirates airline flight EK51 from India has crash-landed at Dubai International Airport with 300 people on board but no fatalities were recorded, officials say.
18 crew members successfully evacuated the 282 passengers in 90 seconds, reports say. Sadlt, a firefighter has now been reported dead.
A statement from Emirate on Twitter read:
Emirates can confirm that today, August 3 2016, flight EK521 travelling from Trivandrum International Airport in Thiruvananthapuram, India to Dubai has been involved in an accident at Dubai International Airport. There were 282 passengers and 18 crew on board.
The Boeing 777 aircraft, departed at 10.19AM from Trivandrum International Airport and was scheduled to land at 12.50PM at Dubai International Airport.
We can confirm that there are no fatalities among our passengers and crew. All passengers and crew are accounted for and safe.
We are expecting a four-hour network wide delay, more information will be available on the Emirates website and social media channels.
A statement by the Dubai government's official media office on Twitter said that all passengers were evacuated safely and no injuries have been reported so far. "Concerned Authorities at Dubai International Airport are dealing with the incident at the moment to ensure safety of all," it added.