Journalists Barred As APC Quizzes Abdulmumin Jibrin Over Budget Padding Allegations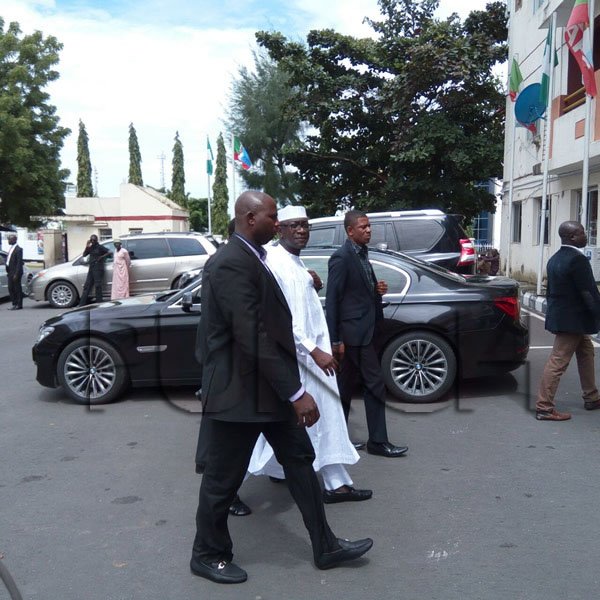 Estimated Reading Time: <1
The leadership of the All Progre?ssives Congress, APC, is currently meeting with sacked Chairman of the House of Representatives Committee on Appropriations, Dr Abdulmumuni Jibrin over his claims that Speaker Yakubu Dogara padded the 2016 national budget to the tune of N40 billion.
Decked in a white flowing African robe (Kaftan), Jibrin arrived the secretariat around 2:09pm in a black land cruiser numbered, Abuja, BWA 768 AM.
He went straight into the office of the Deputy National Chairman, North, Sen. Lawal Shuaibu. The party had Monday written Mr Jibrin to appear before it by 2pm today. Journalists are for now barred from the meeting.
The former chairman of the House of Representatives Committee on Appropriations, Abdulmumin Jibrin had accused the Speaker, Yakubu Dogara, of bribing members of the committee with $20,000 to blackmail him when he accused the Leadership for padding budget 2016.
He claimed, in his latest allegation, that the money was shared on Thursday at Dogara's residence by the deputy chief of staff to the Speaker, C.I.D. Maduabum.
Jibrin said members of the committee "shamelessly collected $20,000 each distributed to them yesterday at the Speakers residence by his Deputy Chief of staff, Hon CID Maduabum."
Denying the allegation, in a statement last night, Maduabum said: "I wish to state that I did not at any time meet or hand over any money of any sort to any member of the House Appropriations Committee.
"This accusation is not only a lie but pure fiction, a figment of his imagination, which can only come from a man whose soul is deeply corrupted.
"It is really shocking that this kind of despicable character could slip through the political process and become an Honourable member of the House of Representatives, a highly respected institution.
"This has confirmed that Hon Abdulmumin Jibrin is a serial blackmailer, a man with the basest of motives, whose sanity has become questionable."
"For the avoidance of doubt, the Hon Speaker, Rt. Hon. Yakubu Dogara did not give me any money to distribute to any member of the House or indeed any member of the Appropriations Committee," he added.