No Place For Fat Officers At Nigeria Defence College – Says Commandant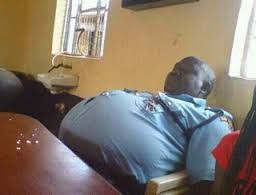 Estimated Reading Time: <1
The Commandant, National Defence College (NDC), Samuel Alade, has said only officers with average body mass index shall continue to make the admission list at the elite military training institution.
Mr Alade, a Rear Admiral, said officers who are obese would not be admitted into the NDC irrespective of their other qualifications, both academic and marksmanship.
Speaking at the NDC's 2016 Sports Day organized as part of the Course 24 graduation ceremony, Rear Admiral Alade, who was represented by his deputy commandant, Major General Ede Ode, said the strict body mass policy was aimed at ensuring that only physically and mentally fit officers were admitted to the college for training.
The Commandant said sporting has remained an integral part of the college's academic programmes which requires both staff and students alike to fully participate in order to achieve the military's objective of maintaining physical fitness at all times..
"Just as we take the matter of academics seriously at the college, we equally pay attention to the matter of physical fitness," the commandant said.
"We appreciate and will sustain the directive from the services that officers shortlisted for the National Defence College programme must comply with the Body Mass Index.
"The essence is to ensure that the participants are healthy, physically and mentally fit to undergo such rigorous training.''