"I Regret Supporting Sheriff To Become PDP Chairman" – Fayose Says He Has Learnt His Lessons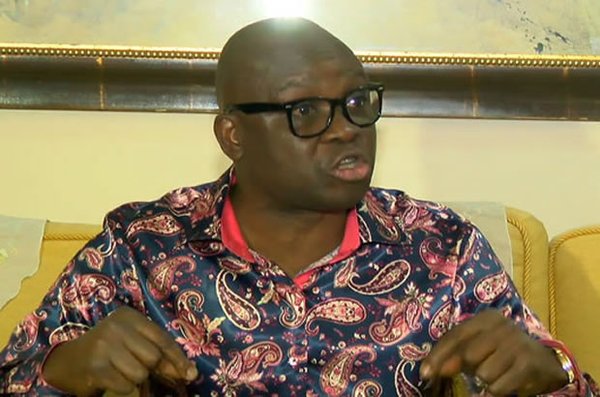 The Ekiti State Governor, Mr. Ayodele Fayose, said he had learnt his lessons from his initial support for the embattled factional National Chairman of the Peoples Democratic Party, Senator Ali Modu Sheriff.
Fayose said this when the ex-chairman of Daar Communications, Chief Raymond Dokpesi, took his PDP national chairmanship campaign to Ekiti.
He said, "I must tell you that I have learnt my lessons from my past experience. I will not openly identify or campaign for a candidate any longer. As part of our great party in Ekiti, I 'm assuring you that I do not have a personal candidate and God knows I have not spoken to my people about any candidate.
"We will allow God to choose for us this time by ensuring that all aspirants have a level-playing ground.
"I have learnt my lessons on Ali Modu Sheriff and I take full responsibility for the consequences. Imagine, if we have allowed him to get there, with the way he is now behaving, it would have been worse than this."
Fayose, while expressing concerns about the crisis rocking the party, lamented that some people were merely paying lip service to reconciliation efforts in the PDP because of selfish interest.
Dokpesi pleaded with the delegates to allow him to serve the party and return it to the winning ways.
According to him, since the last general elections, the All Progressives Congress has not allowed the PDP leaders to rest, urging members of the party to stand and defend democracy in the country.
Dokpesi also denied stepping down for a former National Vice-Chairman of the party, Chief Bode George.
He stated, "Some people have alleged that I have surrendered for our elder in the party, Chief Bode George. Let me make it categorically clear that I was born and bred in Ibadan and I do understand and appreciate the Yoruba traditions so much and so I have respect for elders.
"But there was no time that Chief Bode George and I met and discuss this issue and I did not in any way surrender the race to him. I have not stepped down for him in any way because this time we need fresh and younger blood that would have the physical and mental alertness for the job.
"I have been touring 17 states of the federation for just about a week now and I'm still strong."