Nigeria's Power Minister Is Powerless, Says Emir Sanusi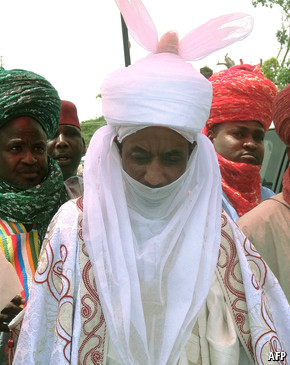 Estimated Reading Time: <1
The Emir of Kano, Muhammad Sanusi II, has questioned the role of the Power Minister as regards to distribution of electricity to households and businesses across the nation.
This is even as the one-time governor of the Central Bank of Nigeria (CBN), stated that the minister owns no control over the power situation in the country.
Speaking at a stakeholders' workshop on Road Transport Management and Mass Transit Operations in Nigeria organised by the Federal Ministry of Transportation in Abuja on Tuesday, Sanusi stressed that the power minister is powerless, due to the fact that virtually all arms of the electricity value chain had been taken away from his grip.
According to him, Nigerians don't pay enough attention to the organic link between their objectives, strategies, processes, procedures and results.
His words: "Very often in this country, we do not give as much focus as we should to the organic link between the objectives, our strategies, processes, procedures and our results. And one example I've always given is the power sector in Nigeria. I used to ask this question that, 'please what really is the Power minister responsible for?' And it sounds like a silly question.
"But the truth is, I don't know about now, but as of the time I was in government, could anyone legitimately hold the Power minister responsible for delivering power? The PHCN (Power Holding Company of Nigeria) was privatised by the Bureau of Public Enterprises; the Ministry of Petroleum Resources is responsible for gas; regulation and pricing is done by the NERC (Nigerian Electricity Regulatory Commission), which is an independent body."
"By the time you took out everything you need in power, the minister has nothing. He controls nothing. The Power minister cannot boast that I will deliver 1,000 megawatts because he can actually build a gas powered turbine and not have the gas. This is because the gas is under the control of a different ministry.
"Also, for hydro, the dams belong to the Federal Ministry of Water Resources and the sites around the dams belong to the state governments. The water turbines belong to the Ministry of Power, but if you want to use hydro, the Ministry of Power does not have the dams. The point I'm making is that one of the reasons why we've not made much improvement on power is due to a lack of coordinating mechanisms."