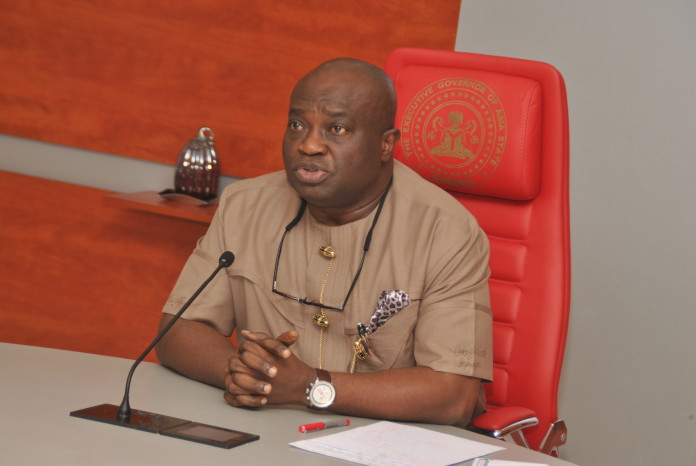 Okezie Ikpeazu, governor of Abia state, has alleged that there is a plot to abduct some judicial officials in the state.
The governor, who did not mention the officials being allegedly targetted, warned "those behind this plot" to desist from the act.
Ikpeazu said this in a statement issued on his behalf by Enyinnaya Appolos, his chief press secretary.
He also called on security agencies to increase surveillance.
"The state government has uncovered plots by desperate politicians to kidnap judicial officers in the state," the statement read.
"We call on security agencies in the state to increase surveillance and protection services around all the judicial officers in the state.
"We wish to warn those involved in this plot to desist from their nefarious activities as the government will not hesitate to apply the full weight of the law against them.
"We also call on Abians to be vigilant and report any suspicious movement around them to the security."
There has been tension in Abia since last week when a federal high court in Abuja ordered Ikpeazu to vacate office.
The court also directed the Independent National Electoral Commission to revoke Ikpeazu's certificate of return, and issue it to Uche Ogah, who came second in the primary election of the Peoples Democratic Party (PDP) in the state.
INEC complied with the directive, a move that the governor opposed, accusing the commission of conspiracy.
Ikpeazu said he maintained the right to appeal the ruling up to the supreme court, wondering why the electoral body "hastily" gave out a certificate to Ogah.
The governor even went as far as getting an injunction to stall the swearing in.
But Ogah commended INEC, and called on Theresa Uzokwu, the chief judge, to swear him in immediately.
He said his rival had obtained a "black market injunction", saying that the refusal of Uzokwu to swear him in is "an insult on the rule of law".
Both men have been engaged in a war of words.