Again, Aisha Buhari Donates N30 million Cash To Parents of Abducted Chibokgirls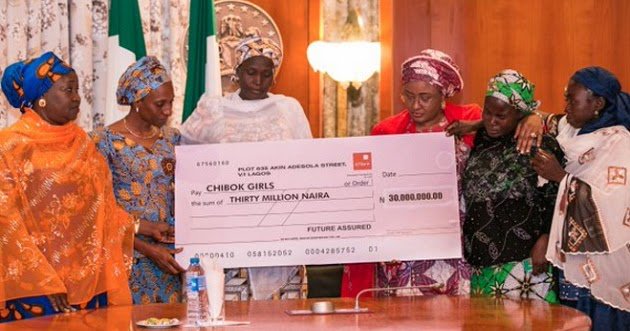 Estimated Reading Time: <1
Aisha Buhari, wife of President Muhammadu Buhari, on Sunday, in Maiduguri, presented about N30 million cash to parents of the abducted Government Secondary School (GSS) Chibok students in Borno state.
Represented by Nana Shettima, wife of Borno Governor, Aisha explained that the gesture was aimed at assisting the parents with some financial support towards alleviating their sufferings.
She pointed out that the presentation was in fulfilment of her promise to assist the less privileged and victims of insurgency in the north-east as each of the 215 parent was given a cash of N139,000 during the event.
"Today's presentation was in fulfilment of the promise I made earlier in the year during my book launch in Abuja," she said.
"I made a promise that the proceeds will be use to better the lives of women and victims of insurgency in the north-east.
"This money is not a sort of compensation, but a kind of support for those in need.
"Our immediate prayer is for God to help trace and rescue the abducted girls so that they can be safely re-united with their families.
She commended the military for their efforts in fighting the Boko Haram insurgents and expressed optimism that the search for the abducted girls would soon yield dividends.
Also speaking, Pauline Taline, a former deputy governor of Plateau, said the gesture was goodwill from the wife of the president to the parents.
"`This is a goodwill support from Her Excellency Mrs Muhammadu Buhari to the parents of the abducted girls," she said.
"We appeal to them to put the money into proper usage, either by investing it in farming or any other business venture."