"You Cannot Use My Stadium" – PDP, APC Bicker Over Use of Stadium For Campaign In Edo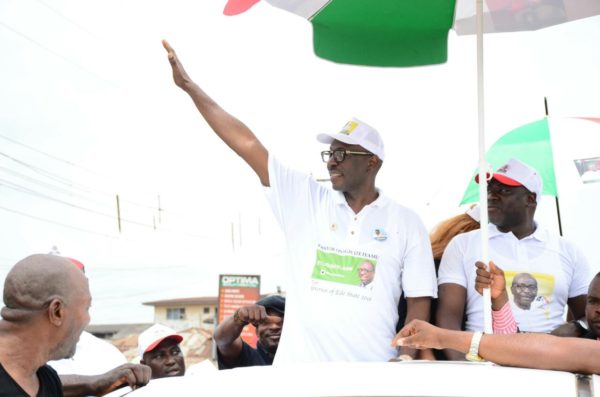 Edo State chapter of the Peoples Democratic Party (PDP) on Friday accused the All Progressives Congress (APC)-led government in the state, of ordering the use of Dr. Samuel Ogbemudia stadium for the flagging off of its governorship campaign scheduled for Monday.
The development has pitched the two major political parties in the state on the war path, as they have engaged each other in war of words.
Chairman of PDP in the State, Chief Dan Orbih, while briefing journalists on Friday in Benin, said after receiving approval from the state Ministry of Sports for the use of the stadium for the flag off, the party later received information that the approval had been cancelled.
Orbih who specifically accused the state governor, Adams Oshiomhole, of masterminding the cancellation of the party's use of the stadium, stressed that "hundred of Oshiomhole cannot stop the flagging off on Monday."
He, however, disclosed that the party has found a new venue at the Baptist Convention Ground located along TV Road, in Benin.
Commenting on the leadership crisis rocking the party, Orbih said with the various judgments delivered on the matter so far, it was clear that Senator Ahmed Makarfi was the constitutionally recognized caretaker chairman of the party.
Orbih also accused Oshiomhole of sponsoring a factional PDP governorship primary election in the State, describing the primary as "a gathering of APC members, who voted for a suspended PDP member."
NewsWireNGR in a phone conversation with a PDP Chieftain in the state said, "How can Oshiomhole say we cannot use his stadium when asked to allow us hold our event"?.,The source said.
"Who told him (Oshiomhole) that he owns state properties"? he added.
But in a swift response to Orbih's claim, Edo State Commissioner for Sports, Priestley Ediagbonya, refuted PDP's claim that the state government denied the party use of the Samuel Ogbemudia Stadium.
He said he only received PDP's letter dated June 28, 2016, for the use of the stadium on Friday, explaining? that the letter got to the registry of the Ministry of Sports on 28th of June.
He said he could not look into requests made to his Ministry on Thursday as he spent the good part of the day attending a party's function.
To defend his claim that his Ministry has never denied the PDP of the use the stadium, Ediagbonya, showed the last request by the PDP for the use of the stadium dated June 7, 2016, and approved on June 8, 2016.
The factional governorship candidate of the PDP in the State, Pastor Osagie Ize-Iyamu, lamented the development. He said opinion poll has shown that the PDP will win the September 10 governorship election resoundingly, adding that about 20,000 seats would be moved to the new venue of the campaign flag off.