Nigeria's Japheth [@Omojuwa] Wins Best Twitter Personality In Africa Award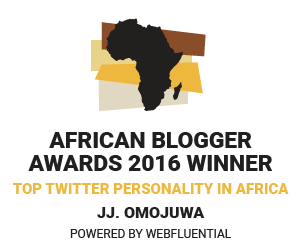 Estimated Reading Time: <1
Popular blogger, social commentator and media entrepreneur, Japheth Omojuwa has been crowned the Best Twitter Personality In Africa at the 2016 African Blogger Awards sponsored by the Bill and Melinda Gates Foundation. Omojuwa, who was named by Credit Suisse Bulletin as one of the 50 Movers and Shakers of Africa in 2015, adds to an already impressive array of awards and nominations for his outstanding use of social media in influencing policies in Africa and beyond.
According to the organizers, the African Blogger Awards want to acknowledge top African talent in the world of bloggers, YouTube, Facebook, Twitter, and Instagram influencers. These awards provide an opportunity for the most successful online influencers in Africa to be recognised for their hard work in growing and keeping their communities active and engaged. Furthermore, the awards provide an impartial measure of the reach, resonance and relevance of an influencer channel, and winners are chosen based on scientific metrics, rather than through peer nominations and voting.
Japheth Omojuwa is widely known to use his immense influence on social media for social causes and demand accountability from governments and public institutions. In 2012, YNaija named Omojuwa as one of the most influential young Nigerians under 35 in Business, Fashion, Media, Entertainment, Technology and Politics.